Asbury Laboratory Solutions
Get Faster and More Accurate PCR Results
What if you could get faster and more accurate results—within 1-3 business days—for PCR panels?
To speed up diagnosis with confidence in the specialties of Respiratory Panel PCR Test, and UTI Panel PCR Test, healthcare professionals turn to Asbury Laboratory Solutions. We understand that choosing a medical test may sometimes feel like deciding between speed and reliability—our PCR delivers both, providing fast, actionable results clinicians and patients can trust at the point of care.
If applicable, login to the TruMED LIS system to submit a requisition.
Remove the Guesswork with Syndromic Testing
We focus on employing the latest technology to detect and quantify pathogens so you can focus on improving patient outcomes and driving operational efficiencies.
The Asbury Lab PCR-based technology is more sensitive than culture and can help inform timely optimal therapy.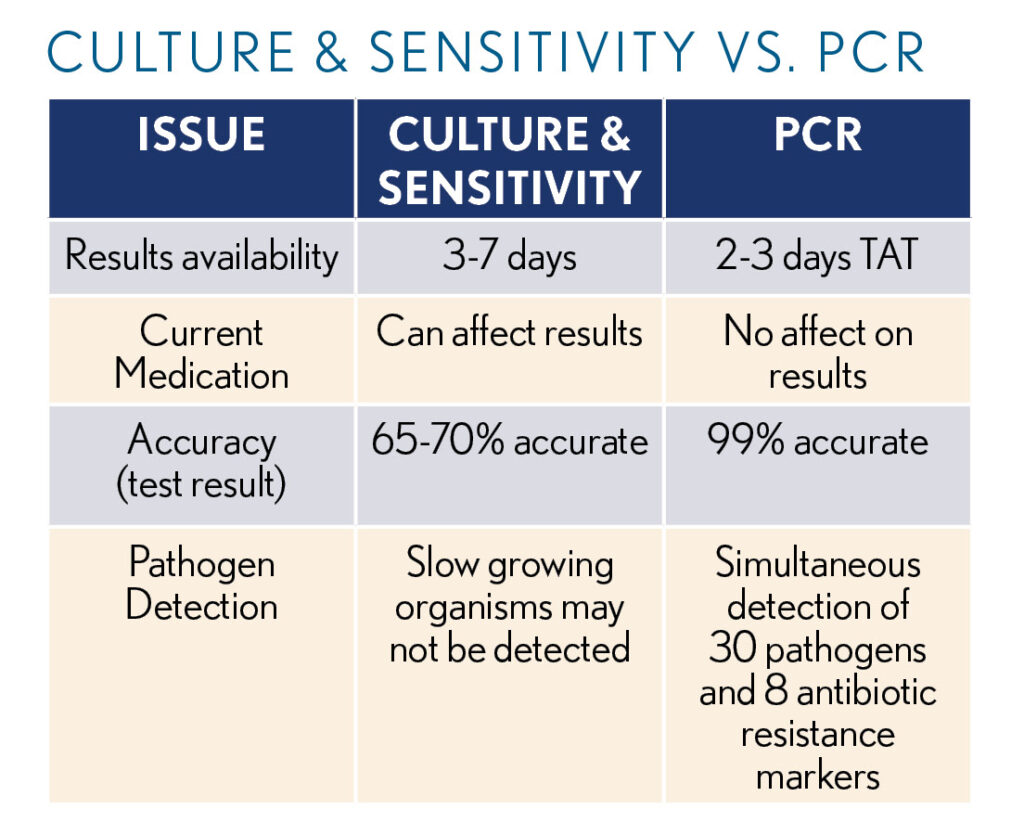 Respiratory Panel PCR Tests
We know respiratory infections can be a top concern, as the pathogens may present with a constellation of symptoms; in some cases, making diagnose challenging based on symptoms alone. Respiratory Pathogen Panel (RPP) detects specific nucleic acid pathogens from patients presenting with signs and symptoms of respiratory illness. RPP testing helps support proper diagnosis and detection of viral and bacterial infections. Respiratory panel testing is non-invasive which helps minimize patients' discomfort. Don't see a PCR test you need? Contact us.
Targets Tested in Respiratory Panel
Asbury Laboratory Solutions offers a robust panel identifying the following pathogens:
RPP Viral Pathogens
Adenovirus
Bocavirus
Covid-19
Coronavirus 229E
Coronavirus HKU1
Coronavirus NL63
Coronavirus OC43
EBV (mononucleosis)
Enterovirus
HMPV A
HMPV B
Influenza A
Influenza B
Parainfluenza virus 1
Parainfluenza virus 2
Parainfluenza virus 3
Parainfluenza virus 4
Rhinovirus A
Rhinovirus B
RSV A
RSV B
RPP Bacterial Pathogens
Bordetella pertussis
Chlamydophilia pneumoniae
Haemophilus influenzae
Moraxella catarrhalis
Mycoplasma pneumoniae
Staphylococcus aureus
Streptococcus pneumoniae
Streptococcus pyogenes
UTI Panel Tests
With the evolution of multi-medication organisms, clinical diagnosis of UTIs has become more complex. We are committed to providing clinicians the results they need –when they need them—to help patients get the fastest most effective treatment for their UTI symptoms so they may resume their everyday lives quickly and comfortably.
Targets Tested in UTI Panel
The appeal of our PCR-based diagnostic testing lies in its high specificity and sensitivity with identification of the following pathogens:
UTI Bacterial Pathogens
Acinetobacter baumannii
Bacteroides fragilis
Citobacter braaki/freundii
Citobacter koseri
Enterobacter cloacae
Enteroccocus spp.
Escherichia coli
Klebsiella aerogenes
Klebsiella oxytoca/michiganesis
Klebsiella pneumonaiae
Morganella morganii
Mycoplasma genitalium
Mycoplasma hominis
Prevotella bivia
Proteus mirabilis
Pseudomonas aeruginosa
Serratia macescens
Staphylococcus aureus
Staphylococcus epidermidis
Staphylococcus saprophyticus
Streptococcus agalactiae (Group B)
Streptococcus pyogenes (Group A)
Ureaplasma urealyticum
UTI Fungal Pathogens
Candida albicans
Candida dubliniensis
Candida glabrata
Candida krusei
Candida parapsilosis
Candida tropicalis
ABX Resistance Marker
Class A B-lactamase (blaKPC)
Class A B-lactamase (CTX-M-Group 1)
Class B metallo-B-lactamase (blaNDM)
Vancomycin (vanA, vanB)
Methicillin/Oxacillin (mecA)
Sulfonamides
Fluoroquinolones
Trimeethoprim
The Asbury Laboratory Solutions Team
From routine analytical testing to special projects our technical and customer service staff will work with you to choose the appropriate tests, method, and frequencies best suited to your specific needs.
The collection, testing and results-reporting of specimens is a team effort of many professionals in the laboratory including:
Steven Wong, Director
Jackie Shultz, Technical Supervisor
Nancy Umana, Manager
Asbury Laboratory Solutions is registered with Clinical Laboratory Improvement Amendments (CLIA) to fulfill all laboratory regulations of the Centers for Medicare and Medicaid Services. We are committed to establishing quality standards, meeting federal guidelines, and ensuring the accuracy and reliability patients' test results—no matter how simple the test.