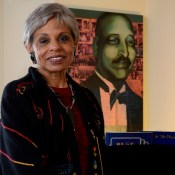 National President of the YWCA. Chairman of the Board of the Performing Arts Society, the Community Foundation, Intercultural Cancer Council, Susan B. Komen Foundation. Board Member at Strathmore. Selected in 1994 as "Washingtonian of the Year" by Washingtonian magazine. And all that after she "retired."
Alexine was born in Sumter, S.C., graduated from Spelman College in Atlanta and received her Master's in Speech Pathology from the University of Iowa. She went to work at the Children's Hospital as a Speech Pathologist, married college sweetheart Aaron and started raising a family – twins first, then three others. The Jacksons moved to California where Aaron fulfilled his military obligation. Their next move was to Greenwood, Miss., during the height of the Civil Rights movement, where Aaron was the only black doctor within a 50-mile radius. Alexine recalls some very interesting stories from that time. Their next move was to the University of Iowa where Aaron did his residency in urology before relocating to Washington, D.C., where for the next 23 years he taught at Howard University, served as Chief of Urology at the hospital and had a private practice.
After living in Potomac for 36 years, Alexine felt the need to downsize following her husband's death. As soon as she stepped out of her car to attend an Asbury marketing luncheon last fall, she says, she knew Asbury was the place for her. the beautiful campus and variety of buildings reminded her of Spelman College, where Alexine's granddaughter has become the fourth generation of the family to attend.