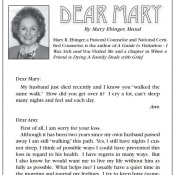 Although Mary Ebinger would be the first to say that aging is a blessing, as a certified pastoral counselor, she is not one to dismiss the hardships that come with it – including the loss of loved ones. Her husband, Rev. Warren Ebinger, was a joyful force whose theme was 'Life is an adventure. Be strong.' " Mary says. Their adventures together were many. They lived in England briefly through a pastoral exchange and met Mother Teresa when Warren was on sabbatical in India.
After Warren passed away in 2013, Mary had a hard time living out Warren's credo despite a busy schedule, family and the presence of many friends. Then, her counseling background coupled with her understanding of the challenges of aging led her to accept a request others might have declined: to start an advice column in Asbury's Village Life newspaper.
"I was delighted to do it," she says. "It added purpose to my life during a time when you really need that. It was especially meaningful for me to be able to see that I could help others."
With her recent experience, Mary is uniquely positioned to help with the inquiries her column receives about coping with loss – an inevitable part of the aging process. Her topics run the gamut. A recent one asked about seasonal depression, another about coping with anxiety. Sometimes people write in for advice about handling bruised feelings from criticism or a careless comment.
"A lot of older people have what I call lossage, whether it's a home, a spouse or friends."
For the anxiety column, Mary challenged them to pull their mind back to the present when they found themselves worrying. "So much of what we worry about are fears, but not our daily reality, and don't know if those fears will ever become reality."
And though it may sound trite, keeping a sense of humor and looking for the humor in situations is advice Mary truly believes makes a difference. "People ask me how I keep my humor through loss and the challenges of aging, but there are always funny things happening if you are open to seeing them."
For conflicts that arise due to a critical comment, she dispenses this counseling-staple:
If it's not true, what do you want to do about it?
If it is true, what do you want to do about it?
How long will you let it bother you?
Since starting the column, she is regularly stopped when out and about by residents seeking advice and depending on the problem's complexity she'll try and give them some quick advice. "It can be hard to get out of the dining room sometimes," she laughs, "but I feel there's always a Band Aid or salve I can provide that can help at least in the short-term," Mary says.
(Asbury Methodist Village has pastoral counseling and social work staff members to whom Mary sometimes refers people.)