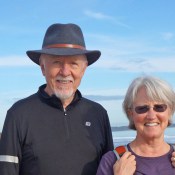 Meet Ron Stevenson and Pam Parmer. Outdoor enthusiasts who have taken several 100-mile walks across England and Scotland, and in 2021, hiked Glacier National Park for Ron's birthday. Says Ron, "one of the big advantages of Asbury for us is that we can lock and leave."
Soon after moving to Asbury,  Ron and Pam hiked along the Northumberland Coast Path and ranged from 7-mile to 14-mile daily hikes. Though Ron and Pam's trip may seem daunting to some, while walking they met Peter Hill, an 51-year-old Englishman who was hiking the entire 5,024-mile coast of Great Britain and chronicling his travels in a blog called gbcoastwalk.com. Ron is an avid photographer, and compiles photo books of their adventures.
Ron and Pam met while members of the same Washington, D.C. running club, though they now spend more time hiking and biking than running. Roller blading, cross-country skiing, and pickle ball round out some of their more recent hobbies. Both say they have been astonished by how much their lives have expanded since moving to their Villa home. They volunteered with Asbury's resident-run Keese School of Continuing Education, and Pam found herself joining Asbury's clown troupe at the encouragement of new friends at the community. "We expected our lives to slow down, not speed up!" Ron noted in a Christmas letter to family.
A third-generation genealogist, Ron has used work done by his grandmother and mother along the site Ancestry.com to trace one branch of his father's family tree back to William the Conqueror – who is also a distant relation of Pam's. Past walking tours in Great Britain have featured pit stops at ancestral castles.
Ron's work life includes four years as a naval officer during the 1960s and 37 years as a marketing executive for Hallmark Cards. Pam had a wide-ranging career that included time in Ghana with the Peace Corps, school social worker positions, director of admissions at a psychiatric hospital, and consulting clinician to USAID employees and families. They have a son and daughter – and five grandchildren – who live in England and Southern California, respectively.
The couple almost did not become Asbury residents; they had decided to move to a retirement community in Pennsylvania when friends invited them to come see the campus. They liked what they saw and heard enough to change their plans and come here instead, moving into a Villas home in April. And we're glad they did!
This article includes information compiled by Asbury Methodist Village resident Fran Blendermann for the Village Life newspaper.
[add tour images – single gallery]