By Jan Garman, Diamond Apartments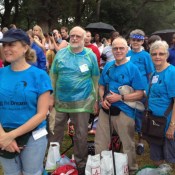 Most Asbury residents know Donald Woodward best as the competent and genial Dean of Asbury's Keese School of Continuing Education but few probably realize that he is also an award-winning hydrologist. At its June meeting, the American Society of Civil Engineers gave its 2014 Arid Lands Hydraulic Engineering Award to Don. The Society cited his noteworthy contributions to the advancement of hydraulic engineering in arid and semi-arid climates, to the many publications he has co-authored, to the federal policies that he has helped develop and to the many countries where he has represented the United States as the preeminent expert on arid and humid hydrology. Hydrology may be defined, in its simplest terms, as the study of the occurrence and effects of water in and on the earth and in the atmosphere.
Don spent his professional life with the National Resource Conservation Service (NRCS) retiring as the National Hydraulic Engineer on the Conservation Engineering Division Staff.  He is only "semi-retired," however, as he continues to update technical publications, conduct research and write in the field of hydrology. Three summers ago, he was invited to return to Poland for a month of research. He also continues to give yearly seminars and he serves as a consultant on hydrology for the Maryland Highway Department.
Don balances his professional life with many volunteer activities, in addition to planning the curriculum for the Keese School, Asbury's resident-run continuing education program. Don has made eight trips with Presbyterian Disaster Assistance to aid in restorations on the Gulf Coast in the aftermath of Hurricane Katrina and to Nashville after the floods there. He teaches conservation every fall to fourth graders in Montgomery County at the county's historic farm through Close Encounters with Agriculture. He also volunteers with the Beloved Community Initiative (BCI), characterizing himself as the "Indiana Jones" of the Asbury bus that transports students in BCI's mentoring program to and from Asbury, and he accompanied the group of young people that went with the BCI to the 50th anniversary of the 1963 March on Washington last August. He has served as one of Diamond's representatives to the Coordinating Council of Asbury Village for the last four years and as a floor representative to the Diamond Resident Council for the last two years.
This article is reprinted from Village Life, Asbury Methodist Village's resident newspaper.