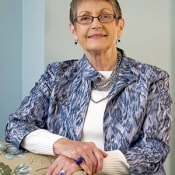 She grew up in a family that moved from one American Indian reservation to another in Montana following her father's career in the U.S. Bureau of Indian Affairs. Her father's transfer to a post in the Interior Department's Washington office brought even more abrupt change. She spent 6th through 10th grades in suburban Falls Church, Va., schools, before returning to Montana to finish out her high school years.
But Donna's travels were just getting started. After graduating from Montana State University in 1962 with a bachelor's degree in nursing, Donna worked at Deaconess Hospital in Spokane, Wash., and met her future husband.
They joined the Peace Corps together, spending two years in Honduras where Donna taught in the school for practical nursing. Afterward, they moved to Moscow, Idaho, where her husband finished his degree and daughter Keri was born. They worked for a project dedicated to moving people out of poverty, and Donna became Director of Health Education.
The couple divorced when their daughters were 5 and 3. Donna earned a master's in nursing then worked in hospital education in Missoula, Mont., before taking a nursing administration post in Billings.
Once her daughters were grown, she studied for the ministry, earning a Master's of Divinity from the United Theological Seminary of the Twin Cities. She served in Montana churches until retirement.
Donna loves singing, working crossword puzzles and book clubs. She has traveled to Europe, Israel, Hawaii and Mexico where she joined the Coffee Harvest sponsored by Witness for Peace. Donna belongs to the Bethesda United Church of Christ.
She moved to Potomac a few years ago to join her daughter Keri's family, which includes her husband and five children. Donna's younger daughter, Jami, is disabled and successfully lives in a group home in Missoula, working in a sheltered workshop.
Donna's latest move has brought her to Asbury. She moved into a studio apartment in March and says,"Everything fit in nicely, and I'm very comfortable." She jumped right into her new lifestyle. She says she's exercising in the fitness center, taking swimming classes, enjoying the food, going to movies and has signed up for Arena Stage trips. "My days are busy!" she says.
As her personal history shows, she's not one to sit around.