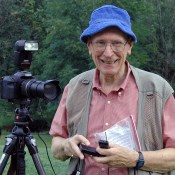 Asbury Methodist Village resident John Villforth has been "messing around with photography" since his father handed over the 1916 bellows camera he carried through World War I. John was instantly smitten, not so much with the artistic side, but rather with the technical aspect of taking an image from the eyes to paper. "There was nothing more exciting to me than seeing that image come up," he recalls.
His first dark room was in the basement using his mother's World War II blackout curtains and a homemade enlarger. "The first picture I took from start to finish was of the Pennsylvania monument at Gettysburg," John says. Since then, he has taken hundreds of thousands more – of travels around the world, his family – and has just recently experimented with time-lapse photography.
"Over the last month, I've been putting my camera on a tripod for 30 minutes to capture thunder heads developing," John says.  "You can watch the clouds boiling. It just blew me away. That's what's so great about photography. You can see things, whether they're little specks of pollen inside a lily or massive clouds in the sky."
A member of the Gaithersburg Camera Club since 2001, John is careful to characterize himself as a picture taker, not a photographer.  "I've never felt like I had a particularly artistic eye," he notes. A former radiation protection engineer who retired as a rear admiral from the U.S. Public Health Service, he does concede that since being in the club, though, all those artists are "starting to rub off" on him. Recently, John was using Photoshop to work some images of daylilies he had taken.  "I was trying to think about how people in the camera club would approach them and I started noticing how the stamens looked like fingers, and how the light was reflecting off the pollen," he says. "Then I said, 'Hold on, John. Remember, you're an engineer. Let's not get too carried away with this stuff."
Yet, it is very clear that John is quite serious about photography. He hosts and produces a show called Perspectives Through Photography on Asbury Methodist's television channel, and enjoys being able to offer new pointers through the guests he brings on. These days, however, he's focusing on putting memories into tangible form for his by using online software to produce books of his images. So far he's chronicled Asbury Methodist's wildlife and seasons, last year's blizzard – even the history of his family's trips to the Jersey Shore, beginning with his mother as a young girl wearing the long, woolen dress her mother made her put on to go to the beach.
"When you spend as much time with a camera as I do, you have to think about why you're taking that picture. What story are you trying to tell," John explains. "I'm 80 years old and I'm not going to live forever. What can I leave as a legacy? I've captured these memories and they're not stuck in a shoebox somewhere. My grandkids can pull the photo books off the shelf 50 years from now and relive them all. It's a fantastic thing."