Memory Care at Asbury Place Maryville
No one can take your place when it comes to caring for your loved one, but with the Asbury Place Memory Care Reflections Program so much more becomes possible.
Serving seniors with memory loss, dementia, or Alzheimer's disease, Asbury Place Maryville offers a welcoming, beautiful environment with the Alpine and Beech Houses. Designed in the style of a private home, these residences have comfortable places for solitude, group events, or to gather with loved ones.
Engaging, Comforting Memory Care Services in Blount County
Brain-health inspired wellness programs
Family-style dining that includes resident favorites, cooked in-house
Family meetings and special events
Meaningful activities that focus on sensory experience
Music concerts offered on campus
Nature walks around campus
Personalized, adaptive calendar of events
Pet visits
Outdoor events on our back patio
Resident history sensory boxes
Our trained nursing staff fosters continuity and trust by working with the same residents each day. Scheduled, in-service training ensures continual learning in accordance with the latest research and practices.
Services & Amenities
On-site, 24-hour nursing professionals
Private apartment living
Access to 24-hour health care services
Customized care plan
Medication reminders and set up
Therapeutic recreation
Maintenance, utilities, and cable included
Weekly housekeeping and linen services
24-hour security with emergency call pendant system
Free on-campus shuttle
Our caregivers work to create bonds based on each person's unique history, background, and preferences. A certified dementia practitioner manages the households, creating opportunities for active, purposeful living that validate each resident's past and present.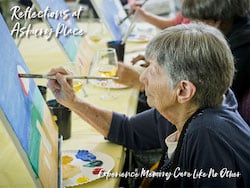 At Asbury Place, our person-centered philosophy honors each individual's desire and ability to enjoy life at their own pace and in their own way. Family members are more than welcome at Asbury Place – they are part of our team. We work with loved ones to gather each resident's life story, which drive the events and programs we develop. By understanding each individual, we create opportunities that facilitate positive memories.
Contact us today to learn more about our unique, person-centered care for people with Alzheimer's and dementia.