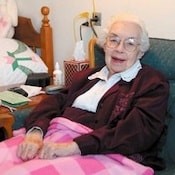 Hundreds of Blount County students were under the tutelage of Helen Webb, a native of this community who taught elementary school for 40 years. Several others know her because of her loyalty and work with the Blount County Republican Party. Few of them may realize, however, that this graduate of Maryville High School and the University of Tennessee turns 100 on Saturday. It's a huge milestone and one that will celebrated at a birthday party from 2 to 4 p.m. Saturday at Asbury Place – Maryville, where she has resided for the past 25 years.
She does run into people all the time that she's met over the years. Inevitably age comes up. "They usually tell me how good I look and then ask me how old I am," Webb said. "I tell them to guess. They always guess between 85 and 90. Then when I tell them they say, 'Oh my goodness, that can't be.'" Helen has four grandchildren and five great-grandchildren.
This soon-to-be centenarian told family she didn't want a big deal made of this important day, but granddaughter Beverly Dupes and other family members couldn't treat it like any other day. They plan to show Webb just how much she has meant to them over the years. Friends are also welcome to stop by at Asbury Place on Saturday and extend well-wishes.
If there is a secret or some special advice on just how to become a member of the centenarian club, Webb didn't provide any. She kept her mind busy as a teacher for 40 years and that has to be a good thing where longevity is concerned. She still keeps busy and even exercises two to three times a week. She said her health has been good over the years.
Webb does get out on occasion and used to attend First Cumberland Presbyterian Church, but she attends services now at Asbury. She said she would like to welcome old and new friends to stop by any afternoon for a visit. The years have sped by. Even Webb herself finds it amazing she has lived far longer than most. She is grateful for the journey and for the friends she's met along the way.
---
Hebrews 13:2 "do not forget to entertain strangers, for by so doing some have unwittingly entertained angels."
Sometimes you just don't recognize people who are disguised as "Angels". They look like you and me and are always saying or doing something good for others! It's easy to think of Sallie Bolin (1906-2003) as one of those Angels.
Sallie and her husband were residents at Asbury Place in Maryville since 1984. Sallie went to her eternal rest in 2003. Recently, I talked with her daughter Ann Meyer from Maryville. One of the stories she shared was that when Sallie would go to the doctors office, she would cheer up everybody in the waiting room telling wonderful stories about Asbury. "Have you ever been to Asbury? Oh! What a wonderful place to live. All my friends love to sing songs like 'five foot two, eyes of blue' and I dance the Charleston, but my all time favorite is 'I'll Fly Away', I can't wait to see heaven!"
Sallie was truly an Asbury Angel and wrote many Godly poems for all of us to enjoy. I am grateful to God that Ann shared such a beautiful story about her mother. Ann and Herb Meyer are members of Fairview United Methodist Church in
Maryville as was Sallie.
At Asbury, you never know how many Angels are Undercover. Sallie loved living here and we dearly loved having an ANGEL on our Campus.