Heavy Medal Winners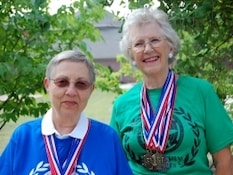 Each summer for one week, Bethany Village looks a little bit like the Olympic Village, as residents pay homage to their heritage and put their fitness to the test during the community's Senior Games.
This year, Mary Murphy and Marcie Norman were top winners, with their 16 combined medals making an impressive racket as the ladies marched in the closing ceremonies accompanied by the sounds of Bethany Village's resident band playing their team's national anthem.
Over the Games' previous six years, Mary collected a drawer full of green t-shirts playing for Ireland, but decided to try something different and step out for Team America this year. "With a name like Mary Murphy, I kind of had to play for Ireland," she jokes. After the Emerald Isle came in last this year, though, she concedes she may have to return to her roots. "My husband's probably turning over in his grave [at this year's results]," she laughs.
Making Mary's accomplishment more remarkable is the fact that she underwent hip surgery just a few months earlier. "I wasn't sure how I was going to do, and I did a lot better than I thought I would," she says, noting her first-place wins in the swimming and basketball free throw events. She credits exercise classes three days a week combined with alternate days of swimming in Bethany Village's fitness center for her impressive results.
Marcie Norman is a veteran participant in the Games as well, taking four firsts this year in the 5-mile cycling event, disc golf, the football throw, and shuffleboard. "I hadn't really done much cycling, so I had to get myself in shape for that," she says. One sport Marcie doesn't need practice in is disc golf; she and her husband host a weekly round on Bethany Village's own course.
Her greatest contribution to the games, however, was in helping level the playing field for the Games' female competitors, she jokes. "I'm sort of the lawyer for the Games," Marcie says. "When Bethany first started these, the women had to compete against the men and I was a little upset with that. In the Olympics, the women don't compete against the men. We're not built the same. So I just kept talking and talking, and finally, they separated the games so women and men have their own events. It's a lot more fun this way."
Modeled after the National Senior Games and developed by Wellness Director Sandy Reid and Wellness Specialist Justin Margut, the games were originally developed as a way to garner interest in the Pennsylvania Keystone Senior Games, an offshoot of the National Senior Games.
Participants form teams by choosing from five countries – USA, Germany, Ireland, England and Mexico – and receive a shirt to represent that country. "Some choose a country that has personal ties, while other multiple-year participants want to add to their shirt collection," Margut says.
Since the Games began seven years ago, they've taken on a life of their own. This year, nearly 200 participants ranging in age from 62 to 99 competed. While that number may impress some, it's not nearly high enough for Mary. "I'd love to see everyone here participate," she says, her medals jingling merrily.