An Innovative Workplace Culture for a Traditional Industry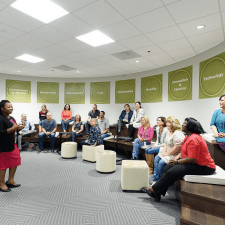 Six months ago, Asbury Communities tried a radical new approach to our way of doing business when we moved to a new headquarters in Frederick, Md., that was all about open space and collaboration. What a transformation. Gone are the offices and cubicles that subtly underpinned hierarchies, created silos and reinforced a culture of email over face-to-face interactions. In their place is a new energy and a new approach to solving the challenges we face as a provider of services for older adults.
In my Relocation 101 blog last year, I outlined several of the critical steps that led to our successful move and the development of what is now the Asbury Support & Collaboration Center. Many of those key steps – listening to those closest to the process, collaborating to plan for the new office space, the buildout itself and the eventual move-in, for example – were all about the planning and execution of our actual office move. But what about the day-to-day successes we consistently need as a provider and a leader within our industry? Just like those we serve, it can be difficult making significant changes after years of doing things a certain way.
Guiding Principles for our New Workspace
Enter our Guiding Principles. Moving Asbury's headquarters and transitioning into a creative, collaborative new space weren't enough to help us prepare for such changes sweeping through our industry as a massive generational wave and its accompanying new set of consumer preferences. It became clear as we embarked on this culture change that we needed to frame how we wanted to encourage people to work in this different environment. We needed a specific set of criteria to focus our problem solving and provide a guideline for decision making.
To help ensure our flexibility in meeting those demands, we developed nine Guiding Principles for our new space. Six months later, we can attribute much of our success to these principles and the influence they've had on our way of doing business:
Commitment to Mission: Trusting associates to make those decisions most important for a thriving organization, and to put Mission fulfillment ahead of individual interests where necessary.
Stewardship: Building a workplace that provides better value while creating an environment optimal to fulfilling our Mission.
Accountability: Creating a space where associates are present yet able to connect from wherever is appropriate to allow their personal and professional lives to flourish – a space of purposeful fun where unique identities are celebrated and great work is accomplished.
Trust: Fostering trust by meeting our commitment to engage those closest to the process, provide growth through collaboration, provide clear expectations, and furnish intentional spaces for gathering and communicating.
Collaboration: Encouraging collaboration between all levels of the organization through an environment that emphasizes contributions over 'status' and rank and allows for strong associate development.
Humility: Favoring a workforce concept that brings leadership out of 'status' spaces offices and closest to those working on resolving issues, managing processes, and designing a better future.
Innovation & Ideation: Rooms traditionally set aside for 'status' are now community spaces serving as idea laboratories. Open to associates from all Asbury entities, idea labs are a place where everyone can envision our future.
Technology to Enable Goals: With The Asbury Group Integrated Technologies working together as a valued partner in our new location, it's easier to work together to build a workspace with the latest innovations benefitting residents, clients and associates and positioning Asbury as a partner of choice.
Transparency: Allows visibility and audibility for those at their work stations, while conversations invite the engagement of others with the resulting benefit of multiple perspectives. At the same time, abundant spaces are available for non-anxious private conversations, promoting the private exchange of feedback, and honoring our commitment to confidences where needed.
Our new workplace gave us the unique opportunity to reflect each of the Guiding Principles through the office's physical design. These principles are prominently displayed in our main gathering space affectionately called Town Center, as a reminder of our commitment to one another, as colleagues, to work together to achieve our mission.
But more than just signage, the Guiding Principles are being threaded into the fabric of how we work – as reminders within our ongoing communications, embedded in our meeting structures, our annual reviews, our teachable moments and our leadership development exercises, to name a few. With greater awareness of the Guiding Principles and a commitment by leadership to support those who exemplify them, we draw closer every day to matching a modern workspace with a modern approach to how we do business. And as we do, we also draw closer to becoming both the provider of choice for those we serve and an employer of choice for those who work on our behalf.