April Is Far Away, But Tax Changes Make It Time to Plan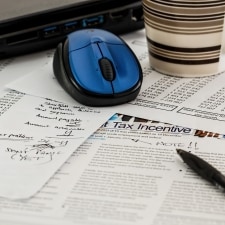 As we approach the fall, it's time to think about taxes. The year started with a lot of uncertainty that, unfortunately, shows no sign of abating. We had and now once again have the fiscal cliff, the sun setting Bush tax cuts, sequestration, debt limit talks in Congress and an ongoing debate over a continuing resolution to keep them funded. Congress did pass The American Taxpayer Relief Act of 2012, or ATRA-2012, just as last year ended. While it raised taxes on the top income earners, it gave us several other things to consider as well.
Income Taxes
Congress created a new "super" tax bracket of 39.6 percent for single taxpayers making over $400,000 and married taxpayers over $450,000 in 2013. This new high rate also applies to trusts and estates with undistributed taxable income in excess of just $11,950.
The phase-out of personal exemptions and itemized deductions has returned. After being eliminated for 2010, 2011 and 2012, starting this year, married taxpayers over $300,000, head of household over $275,000 and single over $250,000 will start to lose the benefit of some of their exemptions and deductions. Itemized deductions are reduced 3 percent of the amount in excess of the adjusted gross income limits. So a single taxpayer with an adjusted gross income, or AGI, of $275,000 would lose the benefit of $750 of their itemized deductions ($275,000 – $250,000 = $25,000 x 3 percent = $750.00). Personal exemptions are reduced by 2 percent for each $2,500 above the AGI thresholds.
A second law will also affect your taxes this year for the first time. The Affordable Care Act of 2010 imposes a new Medicare tax of 3.8 percent on net investment income for singles over $200,000. For married couples that amount is over $250,000, but for trusts and estates the threshold is $11,950 of net investment income. Therefore, if a trust earns just $11,950, its marginal tax bracket, the rate it will pay on the next dollar it earns will be 43.4 percent plus state taxes. This can be a tax trap if you have, or intend to use, trusts that do not distribute their investment income to the beneficiaries and are subject to tax. Remember you have up to 65 days after the end of the year to make appropriate trust distributions and have them count for the previous year.
IRA Contribution to Charity
Congress extended the tax-free direct transfer of IRAs to a qualified charity for one year only. The distributions qualify as part of the taxpayer's annual required minimum distributions, or RMD.  These direct gifts are most advantageous for taxpayers who would not otherwise qualify to itemize their deductions and taxpayers who can deduct medical or miscellaneous expenses. Because the IRA withdraw is not included in your adjusted gross income, it does not increase the deduction thresholds.  Remember, the transfers must be completed before December 31, 2013.
Estate Taxes
ATRA 2012 made permanent three significant aspects of the federal estate law. The federal estate tax exemption is now set at $5,250,000 and will be adjusted annually for inflation; portability of a decedents unused estate exemption amount can be transferred to their spouse; and the estate tax rate was set at a flat 40 percent.  The higher limits may seem to make estate tax planning unnecessary. However, we have to be careful about state estate taxes. Maryland is one of only two states that have both an estate tax and an inheritance tax. The estate tax exclusion in Maryland is still $1 million and rates vary from 10 percent to 16 percent. The inheritance tax (10 percent) applies to any amount in excess of $1,000 left to someone outside the immediate family.
Taxpayers in Maryland can benefit from lifetime gifts because the gifts are not added back to the taxable estate value as they are in the federal combined estate and gift system.
Planning
Fortunately, the gridlock in Washington has made the probability off additional changes in the tax rates relatively remote this year. Planning will be a more traditional approach. Try to accelerate deductions and defer income without causing large swings in your tax brackets; use IRA withdraws or Roth conversions to "create income" to offset unusually large medical or other deductions that may put you in a lower tax bracket; and offset capital gains by "harvesting" any capital losses that you may have. Review your estate plan and consider making gifts if you have a Maryland taxable estate.
Glen Todd, CPA, PFS, owns Glen Todd & Company, CPA, based in Gaithersburg, Md. This article is for informational purposes. Before making any financial decisions, we ask that you consult with your personal advisor to see what investment options are best for your situation.