Let's Celebrate National Senior Citizens Day by Redefining It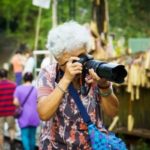 Today is National Senior Citizens Day, and there is much to celebrate. As we honor it, let's take this opportunity to talk about the need to redefine our society's views on aging – and the language we use around this topic.
A humble suggestion: Let's get rid of the term "senior citizen." And "elderly."  And "elders."
An online list of synonyms for these terms brings up: "no spring chicken," "long in the tooth," "ancient," "been around," "lot of mileage," and "declining."
I could list more, but you get the picture.
Listen to the experts
Ask older people how they feel about "senior" and "elderly" and the reaction is overwhelmingly negative. Ashton Applewhite, an ageism activist and author, coined the term "olders." In the senior living industry, where I lead a non-profit system of continuing care retirement communities, we use "older adults" as much as possible.
Group descriptors are necessary. But it is clear that the current popular terms evoke negative, ageist stereotypes of individuals who have lost control of their bodies or minds, and perhaps their passion for life.
Why does it matter? Because this is far from the reality.
Outdated language clouds reality
In May, for Older Americans Month, Asbury Communities, a national not-for-profit system of continuing care retirement communities, launched a campaign called "What's Age Got to Do With It"  to showcase the engagement and contributions of older adults living on our campuses.
Today's older Americans are more engaged than ever.
The National Council on Aging stated that as of 2015, nearly twice as many Americans aged 65 and older were employed than teens—8.4 million compared to 4.7 million, respectively. The number of employed older Americans has been growing for years, and is expected to continue expanding for years to come. The U.S. Bureau of Labor Statistics projects that more than 31 percent of Americans ages 65 to 74 will be working by 2022.
Continuing to engage and contribute
Despite having the word 'retirement' in their descriptions, retirement communities (or the more recent term, Life Plan Communities) include plenty of residents who do more than retire. Residents may be eager to give up home maintenance, but that doesn't mean they are ready to disengage from their previous lives. Work is an important part of identity for many of us, particularly if we love what we do. Many older adults continue to run their own businesses, work as consultants, or even start a new career.
However, employment is not the only way that older Americans are staying active. In my role, I have many opportunities to meet older adults who have never viewed retirement as a time to take it easy. I've found that many spend more time doing what they love to do most – giving back to the community.
Some are volunteer dynamos, creating new programs for or helping fellow residents, working with churches or community service organizations, or even organizing their own efforts such as the Gaithersburg Beloved Community Initiative, which works with youth to address the challenges of language barriers, education and social injustice.
Inspired by what I see
It is stories like these that are the true face of older adults in today's America, not the stereotypical assumptions we often make. Their continued contributions to making the world a better place redefine how I view aging and remind me to prepare for the opportunities for enrichment and growth that our retirement years can bring.
So on this National Senior Citizens Day, this is my challenge to you – don't fall back on widespread stereotypical attitudes toward older Americans. Observe how older people are conducting themselves in your community; look for the contributions they are making.
Changing the conversation
And look for your own internal biases. Who among us has not used the term "senior moment" or made cracks about "getting old"?
Aging is a process that brings changes. Not all of them are welcome, and not all of them are within our control.
But changing our perceptions and our language is within our control. And it will be welcomed.
If you would like to learn more about Asbury's continuing care retirement communities, contact us here. Our team is committed to providing the highest quality senior living services to older adults at each of our communities.