Let's Focus on the 'Citizen' in Senior Citizen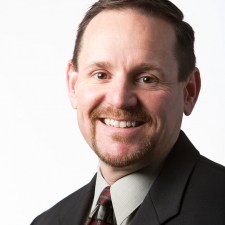 By Doug Leidig, CEO, Asbury
Last year for National Senior Citizens Day, I suggested that a great way to honor the day would be to reduce our use of the term senior citizen, along with similar words like elderly that evoke images of frailty and dependence. As we celebrate this day one year later, I again call on friends and colleagues to help reframe the way society views aging.
Ask an older person what they prefer to be called, and 10 times out of 10 you will hear, "My name." That response speaks to a basic desire in all of us to be known and valued as an individual. No matter what our age, that desire doesn't change. And when it comes to value, anyone in the senior living profession understands just how much value older people bring.
The U.S. Bureau of Labor Statistics forecasts that by 2024, 13 million people age 65 and older will be working. While that may be a small percentage of the projected 164 million people in the labor force overall, the growth rate of those groups far outpaces other ages: 55 percent for 65-74 year olds and 86 percent for those age 75-plus.
Asbury Communities is seeing this trend in real time. The numbers of people living in our retirement communities who continue to work either part- or full-time is growing. Attorneys, government workers, plumbers, authors, executive coaches, consultants, professional downsizers and realtors, the list is extensive.
And that doesn't begin to take into account the incredible contributions that older people make as community volunteers. The Corporation for National and Community Service reported that people 55 and older in the United States volunteered 3.3 billion hours in 2015 – with an economic benefit of $75 billion.
Judith Clovsky, a nurse living at Bethany Village in Mechanicsburg, Pa., spent a month in Uganda last year providing services in rural villages. This September, she heads to Malawi. John Killian, 88, also of Bethany Village, continues to work at his law practice. Lewis Carson of Asbury Place in Kingsport, Tenn., shares his life's work as a geologist by introducing young elementary school students to the field.
On Asbury's campuses, volunteers make incredible contributions, too. Phyllis Zeno, of Asbury Methodist Village in Gaithersburg, Md., has written an original musical each of the five years she has lived there. Each one showcases professional talents and skills of so many fellow residents in staging, directing, designing, conducting while creating camaraderie, connections, and lots of laughter among the dozens of cast members.
Do you have your own examples and stories of contributions made by seniors you know? I hope you'll share them. Together, let's redefine the expectations of aging.