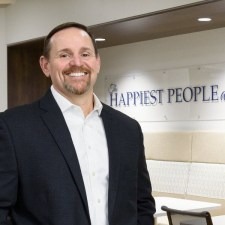 In the senior living industry, we have a unique window into how difficult it can be to make significant life changes. This concept truly hit home for us when the lease was up for renewal at our corporate location not far from the nation's capital.
Asbury's retirement communities are built upon a model of frequent social interaction and engagement that comes from people being in close proximity to each other. Great ideas and new programs are inspired thanks to that model. Our corporate office design, however, couldn't have been farther from this. The 60-person office was a sea of 6-foot high, gray cubicles surrounded by offices for leadership – and most of the windows were within those offices. Natural light was limited and departments were siloed. One could work for long stretches without even seeing their neighbor. And even though we certainly collaborated with each other, the limited number of conference rooms made finding available meeting space a challenge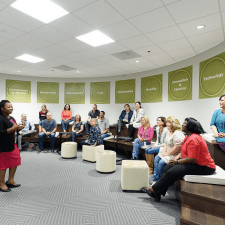 and made calendars almost impossible to manage. With such a design, the office felt drained of energy, in spite of a team of dedicated associates, committed to our mission, accomplishing great work. We recognized we needed to work differently, and after 10 years, we knew a change in scenery and culture was long overdue. So, how did we accomplish this? Here's a look at our journey.
Big changes require preparation
Financial stewardship is one of our core values, and fortunately, both time and the real estate market were on our side. We were thrilled to confirm our long-held suspicions that we were going to save millions of dollars in rent by heading a few miles north to a less expensive market. The lease came with a significant build-out credit and this, coupled with the savings in rent, meant we could dedicate more dollars to our mission of doing all the good we can for those we serve while creating a state-of-the-art work environment.
Even still, we knew that this transition would not be without bumps in that road – people were going to be required to think differently, work differently, and interact differently. It came as no surprise that not everyone was immediately on board with the relocation. For a few, the commute would be longer and they were unfamiliar with the new locale. Many had gotten comfortable behind the high walls of the cubicles. Some were afraid that this meant a change in structure and responsibility. And some just didn't like change. But by engaging virtually every associate in some aspect of the decision-making process, we tried to help people work through this as easily as possible. We had our work cut out for us.
Listen to those closest to the process
In order to make this change – both physically and culturally – we teed up the move more than a year before the moving trucks arrived. We began by listening to those closest to the process with discussions about the new office's principles of openness and collaboration and asked for input through surveys, focus groups and all-associate meetings – and boy, did we get an earful. They told us they wanted open spaces, bright colors with plenty of natural light, and multiple areas for collaborating with their coworkers. They wanted technology that would enable them to videoconference more easily with communities across the Asbury system and business partners. They wanted a sustainable workplace, with energy-efficient lighting and a shift toward a paperless environment. We even surveyed associates about what snacks and beverages they wanted in our new café, and got rid of our vending machines.
Communicate and celebrate change
Office Move Working Groups that included dozens of associates made this an associate-driven process. One team became our new location scouts. They toured multiple sites that fit our criteria, looking at commuting distances and shops and services, and eventually narrowing our list of choices to three final selections. The "Telling Our Story Team" developed creative wall signage to reflect Asbury's story. A "Huddle Space and Ideation Room Team" determined what materials would be used to encourage creative expression, such as writable walls. Others participated in a Workplace Strategy Focus Group alongside our architectural firm THW Design, meeting in small groups to rank various workspaces, meeting areas, color themes and furniture. As we considered workspaces, we brought in chairs for associates to try out. Their input ultimately determined the direction of our design and office furniture.
In the months before the move, we scheduled two "Scrap Your Crap" days where people were encouraged to begin sorting through documents that needed to be moved, stored or thrown out. We donated office supplies to local school districts and held a "Yard Sale" for associates to bid on any equipment and furniture not going to our other communities (with proceeds benefiting the Asbury Foundation). Many associates called this process "cathartic" and shared that it helped prepare them for the next steps in the move.
All along the way, we kept associates apprised of decisions and progress. Key dates and timelines were shared via email, posted around the office, and reinforced during our weekly face-to-face Huddle. I personally hosted updates and Q&A sessions and an all-associate tour of the space, walking them through the new floor plans and sharing the vision for its final design.
A new energy
Today, after two years of intentional planning and one month into our move, the energy is radically different. Our commitment to being an accountable, innovative, and transparent organization is apparent the moment you step into Asbury's entryway, where you are greeted by glass doors and the virtual receptionist who connects guests and visitors with associates. The entire space is ringed by floor-to-ceiling windows with mountain views. Take a Video Tour of Asbury's new office here.
The workstations are arranged in "neighborhoods" versus departments, with low walls and smart desks that change to standing position with the flip of a switch. Now, you see face-to-face interactions and colleagues consulting with each other. You hear light conversations and laughter, all perfectly tempered by the technology of "white noise." You find associates gathered in stadium-style seating in the Town Center for Huddle on Monday mornings and the Ideation Room for brainstorming sessions.
You find people taking phone calls in one of the many private "phone rooms" or see an entire team in a spacious, conference room, video conferencing with their colleagues in other states. "Touchdown workspaces" are available for out-of-town associates, partners and vendors. And there can be no doubt that we are anxiously waiting for the newest arrivals to the Asbury family with the "Mom's Room," a private, designated space for nursing mothers.
Last, but not least, no one has an office – not even me. This is probably the most striking difference between our space and most typical offices. We've removed the "status symbol" of personal offices to create a less hierarchical structure and foster true collaboration.
We are still settling in, and I would not be honest if I didn't say we still have a few kinks to work out. But this journey has been a defining moment in writing the next chapter of Asbury's story. We have turned the page on tradition and are focused on innovation and ideation. Whatever the future may bring, we are ready.