"Take Care of Mom:" Parent's Estate Brings Unexpected Challenges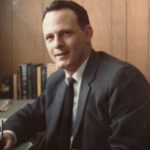 By Doug Myers, President & CEO, Asbury Foundation
As someone who has spent many hours participating in seminars on estate, charitable, and financial planning, I never really thought about living it. But when my father and my best friend, Stanwood Myers, passed away, I faced the challenge of managing the estate of a loved one while coping with grief.
A tough and stubborn man, he finally succumbed to COPD after a long and protracted battle. It was only after his death that I fully understood how much he had to fight to breathe. A good friend who is an anesthesiologist was able to explain to me what a struggle Dad was going through. I really miss my daily conversations with him. He was smart, a great Father and husband and a successful business leader and volunteer. But he is surely in a better place.
In the past several years as Dad's health declined, I was offering advice on the importance of updating his estate and financial plans. After all, understanding those issues is a large part of my role as president of the Asbury Foundation. There had been many changes in the laws since the early 1990's when Dad and Mom had last executed a will. New requirements were implemented for health care privacy – if the right forms weren't completed even his own children wouldn't be able to find out how he was doing if we called the hospital. Financial institutions might not honor a Power of Attorney document if it was too old. It was odd to be in the position of giving Dad advice. He was a world class procrastinator and I didn't want to push him, so instead, I gently nudged. Thankfully he followed through on most things.
When the day came in which I am the executor of Dad's estate,, what I thought was all wrapped up in a neat bow was actually a bit messy. Every day revealed something else we hadn't thought of – some piece of paper that needs to be unearthed or company notified.
A tax extension for 2012 I thought was taken care of was incomplete due to missing paperwork. There were still a few accounts set up solely in Dad's name to which I lacked access. He left no instructions for his church service. We did what we thought he would have wanted. We face a house full of family treasures with no written direction on the distribution, just recollections of Dad saying, "You can have that."  We will work it out, but it will be another step.
A colleague shared with me an image that helps me get through each day.  "How do you eat an elephant?  Answer: One bite at a time."  I simply tried to check one or two things off the list each day. It kept me from feeling overwhelmed.
For all these uncertainties, I recall the conversations I had with Dad over the last few months of his life.  He was not worried about dying. Instead, his one and only concern was that Mom be taken care of and loved. When I was presented with a new issue, I reminded myself of Dad's words, "take care of Mom" and it guided me in all decisions.
So my advice to all of you is now expanded. Of course, you should engage good legal and financial advisors to help you meet your goals today and when you are gone from the Earth. But add to the list some guiding principles for your heirs to help them make decisions when the paper trail ends and they have to use their judgment.