Alan Greener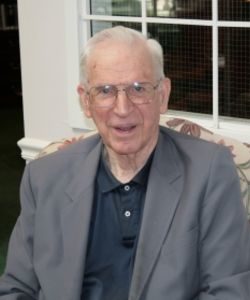 Every day at 4 p.m. a familiar figure was present in the Springhill lobby. Sitting just outside the entrance to the library and always dressed in a sports jacket, Alan Greener observed the comings and goings of life at Springhill.
Mr. Greener lives at Springhill for 15 years, having moved in originally with his father, Edward Greener, an Erie banker. Alan Greener had a career as an engineer with Penelec in Erie and was a member of St. John's Lutheran Church.
Mr. Greener was a private man, and most people didn't know he had made the very first refundable entry fee gift to Springhill. He established an endowment fund to serve as a perpetual source of income to further Springhill's mission. Mr. Greener also had designated Springhill has the beneficiary of an annuity he had established with Thrivent Financial (formerly Lutheran Brotherhood).
At Mr. Greener's passing, his forethought and generosity benefited all of Springhill in its support of the Benevolent Care program and the Lifestyle Enhancement Campaign. We certainly miss Mr. Greener's daily presence and good nature and value his legacy to the Springhill community.