Founding Springhill Resident Leaves Legacy
Ann Griswold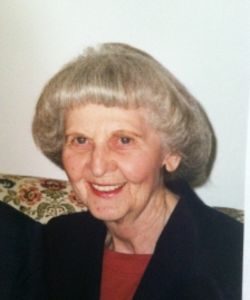 Ann Griswold was always on the move. She loved to walk. Maybe it was her Polish heritage. She walked outside in good weather and inside during the Erie winters. She would greet you with an enthusiastic, "Hi, hi, hi," as if one greeting couldn't convey her happiness to see you.
Ann was among the first people to join the waiting list more than 25 years ago before Springhill was even built. At Springhill, she was known for her good works. She would cook for a neighbor who wasn't feeling well, get others' mail for them, pick up thing at the store for a neighbor who couldn't get out. Ann had great compassion for the needs of others.
One way she showed her compassion was by supporting the creation of the Woodlands Memory Support Neighborhood at Springhill. And her selfless charity hasn't stopped. Upon her passing, Springhill was notified of Ann's continued generosity. She had left a bequest to help Springhill complete the final construction phase of the Woodlands.
Asbury Foundation and the entire Springhill community are grateful for the legacy of this founding resident.