Betty Peterkin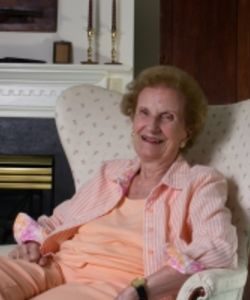 A true pioneer, Betty Peterkin was the very first resident to move into Asbury Solomons when it opened in 1996.
Betty lived in Camp Spring, Md., and had worked for the Department of Agriculture for 35 years. When it was time to consider a retirement move, she knew this new community to be built in Southern Maryland was the place she wanted to be. She even hosted informational meeting in her home.
Betty jumped right into life at Asbury Solomons, leading the Gettying to Know You Committee, which hosted events to help newly arrived residents feel welcome.
Betty's original cottage had a great view of the Patuxent River and was perfect for hosting new resident wine and cheese parties. "Fellowship is so wonderful at Asbury. People are eager to get to know other people," she says. Betty also prepared a resident directory with photos to make it easy to match names with faces.
An early donor to the Asbury Solomons Benevolent Care Fund, Betty was nominated and served on the Asbury Foundation Board. "If you give money, then you get asked to be involved," Betty says with a smile. But service to others is just how she has always lived her life.
In honor of her generosity and leadership, the Peterkin Wellness Center was dedicated in 2004. Betty was also honored with the Francis Asbury Award. Eighteen years' worth of Asbury Solomons residents thank her for making their new Asbury residence feel like home!