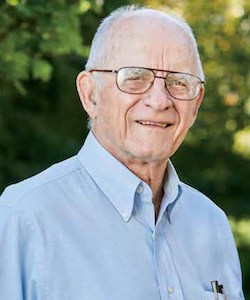 Asbury Methodist Village Donor Story: Bill Hicks
Asbury Methodist Village resident Bill Hicks witnessed the effects of dementia firsthand has he cared for his wife, Mary, during her struggle with Parkinson's disease and associated memory loss. Following her passing, he wanted to take action in her memory and was particularly impressed by a presentation by the previous Executive Director concerning the benefits of "Brain Exercise." In order to help fellow residents in the Gaithersburg, Maryland Community, and in Mary's memory, he made a generous contribution to support a Brain Health initiative that may be able to protect against loss of cognitive function. Thanks to his generosity, AMV is one of the first communities of its kind to create the position of Brain Health Advocate to assist residents in this area.
The number of people with dementia worldwide is projected to reach 82 million in 2030 and 152 million by 2050. Alzheimer's disease is the most common form of dementia (roughly 50–70% of cases). It is a disease that strips people of their memory and eventually leads to death. There is no cure.
However, the National Institutes of Health ACTIVE study, the largest study on cognitive training ever performed, proves that healthy older adults can make significant cognitive improvements with appropriate cognitive training and practice.
The speed-of-processing training that the ACTIVE study participants used was an earlier version of the Posit ScienceTM BrainHQ exercise called "Double Decision." In Double Decision, the user has to spot a target in the middle of the screen while simultaneously noticing a target in the periphery – even when both flash on screen very briefly. Over time, the brain speeds up and is able to process the targets more and more quickly.
Getting started and staying engaged are two of the biggest challenges to brain training through Double Decision. The Brain Health Advocate supports efforts throughout AMV to utilize this program. The part-time position is funded for two years as a result of Bill's gift through Asbury Foundation.
The Brain Health Advocate generates interest in the program, teaches it, tracks users and their time dedicated to the course, and benchmarks their efforts against a standard mental test score. Residents are very interested in the BrainHQ courses, with a revolving waiting list of participants for the 10-week sessions.
The creation of this position helps to differentiate Asbury Methodist Village and further solidifies the community as a Brain Health Center of Excellence.