Believe in Building Our Community
Bill and Judy Higgins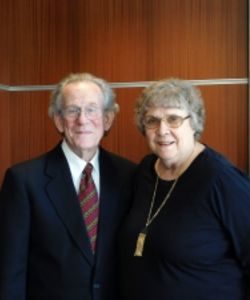 The son of a Methodist minister, Bill Higgins believes in the importance of community and the value of doing good in the world – beliefs that strongly influenced the decision he and his wife, Judy, made five years ago to move to Bethany Village.
Since that time, they have carried out those principles by being active volunteers on campus, a role Judy began 12 years prior to moving to Bethany. Bill is a former music professor with a background in computers who now runs Bethany's monthly iPad classes.
But the Higgin's most lasting legacy may very well be the $125,000 donation they recently made to Phase II of Bethany Village's Building Our Community capital campaign.
Phase II of the campaign will bring a cafe/bistro, new Auxiliary Gift Shop, and beautiful, contemporary gathering spaces to the East Campus.
Bill says, "We believe in Bethany's mission and in doing what we can to make it a better place for the people who live here now and for those we hope to attract."
The couple is particularly looking forward to expanded dining options, which will be convenient for residents who live on the campus's east side.
They also support Bethany's Care Assurance Fund. "Bethany Village and Asbury promise that you will not be left alone, that you will be taken care of," Bill says.