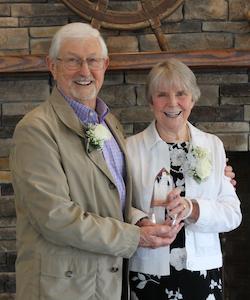 Asbury Solomons Donor Story: Bud and Suzanne Edwards
Bud and Suzanne Edwards of Asbury Solomons have shared a commitment to service – and each other – for more than 60 years.
The couple met in 1955 while attending college in Iowa. During a Sunday night singalong, they both started dancing and never looked back. Two years later, they married and started their careers as educators.
After making the move to higher education in Iowa and then the University of Maryland, they both settled at the University of Arkansas. There they became deeply involved with the university and surrounding community. They retired from the university in 1997 and started a very successful consulting firm in higher education fundraising.
When Bud and Suzanne began looking into CCRCs, they searched from Vermont to Florida to Arkansas, ultimately deciding on Asbury Solomons. They both cited the river and warm reception they received from other residents as the deciding factors.
They got involved right away. Sue noted, "We loved it from day one, and haven't stopped."
Over their 13 years at Asbury Solomons, they've supported the community by serving as leaders on the Asbury Foundation Board of Directors, Asbury Solomons Community Advisory Council, Resident Association, Computer Club and Benevolent Care Silent Auction Committee—to name just a few! They also deliver the newspapers to the cottages every morning, a job that takes commitment and means so much to so many.
Earlier this year, the Asbury Foundation recognized Bud and Suzanne with its Chairman's Award for all they have given back to the Asbury Solomons community. Recipients inspire others to get involved to create positive change—just as Bud and Suzanne have done—leading by example.
The Chairman's Award at Asbury Solomons was presented to the Edwards at a Donor Appreciation Brunch this past spring. Like Asbury Solomons, each community hosts this annual event to say "thank you" to those who have shared their blessings with friends and neighbors. Foundation Partners (anyone contributing $1,000 or more in the past calendar year), Loyalty Society members (those who have given for 10 or more consecutive years) and Heritage Society members (anyone who has made a planned gift or included Asbury in their estate plans) are invited.
Asbury Foundation seeks to inspire compassion, share blessings and fund the mission. We couldn't do it without those who share our passion for helping others. Thank you, Bud and Sue, for helping lead the way at Asbury Solomons.