Clyde & Carol Cressler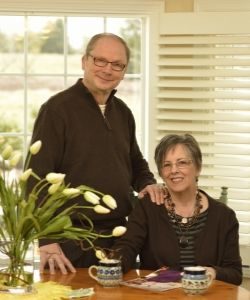 Shortly before Clyde and Carol Cressler moved into a new cottage at Bethany Village in October of 2008, they had talked about getting a new couch for their living room. That discussion led to others, and they decided to explore a more substantial change by touring Bethany Village. Within a few weeks, the new couch was out – and a new home was in. As Clyde says, "We left to buy a couch and came back with a cottage."
When the Cressler's heard about the "Building Our Community" capital campaign at Bethany Village, they were eager to learn more. After discovering further information about the campaign, they were quick to get involved. Clyde and Carol are a part of the Leadership Campaign Committee, and Carol is a co-chair of the campaign – along with Rev. Marlin Snider.
Not only did the Cressler's get involved with their time, they have supported the campaign financially. Carol notes that they "wanted to support substantially" and found that a great way to do that was through cashing in a commercial annuity they had. For them, cashing out this annuity made a lot of sense – as the deduction they received from their gift minimized the tax implications.
If you ask them which phase of the campaign they are most excited about, their answers will differ. Clyde is most excited about Phase 1, the new Community Room, and the potential for hosting speaker series and special events. Carol is excited about Phases 2 and 3 – the Town Center and Main Street which will feature a Beauty Salon & Spa, new dining venue, renovated library, bank, and post office, and much more.
More than anything else, the Cressler's are passionate about contributing to their community, and they want their friends and neighbors to join them in their enthusiasm. When asked what message they want to give to their community regarding the campaign, their answer was quick, "Give out of pure joy to make your community better, the amount doesn't matter – nothing is insignificant!"