From Serving Professionally to Serving at Inverness Village
Col. Shirley Schelper and Dr. June Holmes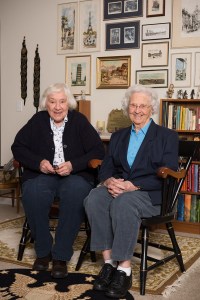 Longtime friends Col. Shirley Schelper and Dr. June Holmes first met when their careers took them to Europe. Col. Schelper was stationed in Germany as the Consultant in Physical and Occupational Therapy to the Surgeon General of the U.S. Army and Seventh Army in Europe. Dr. Holmes was on the faculty of Boston University supporting the U.S. Department of Defense by providing advanced college level courses to primary and secondary classroom teachers.
As a psychologist, Dr. Holmes was integral in setting up multiple conferences for teachers in Germany, focused on special needs children in the classroom. At the conferences, Col. Schelper taught the basics of physical therapy and how to help children with special needs. Year after year, the two women's paths crossed, and they became fast friends.
Their friendship continued not only through the years, but into retirement. They retired to a condo in Tulsa, and then decided to move to a continuing care retirement community. When they found Inverness Village, they knew it was home. The community atmosphere and country location, surrounded by trees, hills and farms, reminded them of the villages they experienced in Europe.
After having served others in their professional lives for many year, that service to others didn't stop after retirement. Dr. Holmes continues to attend various mental health conferences, and Col. Schelper has taken on a volunteer role gathering donated clothing and delivering it to the Assistance League of Tulsa.
And their service to Inverness Village hasn't stopped. Both Col. Schelper and Dr. Holmes have been extremely supportive of the Benevolent Care Fund at Inverness Village through contributions from their entrance fee refunds.
"I feel deeply that it is my responsibility to give back through compassionate giving, especially for my neighbors needing benevolent care. By using my refundable entrance fee, I have an easy avenue that doesn't affect my monthly budget," says Dr. Holmes.
Col. Schelper shares, "Using my refundable entrance fee is a very simple way to support benevolent care. You don't have to write a check or touch your monthly resources. Plus, I appreciate the tax benefit. It is a wonderful way to support our community and neighbors while we enjoy living at Inverness Village."