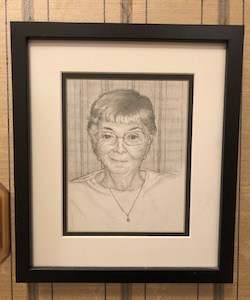 Asbury Methodist Village Donor Story: Dottie Mattes
Asbury Methodist Village resident Dottie Mattes spent her career as a teacher, caring for and devoting herself to her students. In 2018, Dottie devoted herself to caring for her neighbors in need at AMV through the Life Income Program.
Dottie worked her way up to lead the Physical Education Department at Churchill High School in Potomac, Maryland. She thoroughly enjoyed coaching field hockey and many other sports until her retirement in 1980.
Dottie had moved to Montgomery Village in Gaithersburg, primarily so she could finally own a dog (her beloved Boston terrier) but also to be closer to her treasured golf course. She golfed whenever she could until she had to give it up due to arthritis.
In 2011, Dottie decided to move to AMV, where she knew other residents, such as Mary Waldron, through golfing. Continuing care was important to her because she does not have any remaining family. Here at Asbury, she knew she would be taken care of if she became unable to care for herself someday.
At Asbury, Dottie maintains her competitive spirit by playing bridge with other residents.
"I play with an extremely competitive group," she said. "That's why I like it."
In 2018, Dottie found herself facing decisions about her finances and what would happen to her estate if she passed away. After consulting with her financial advisor and estate planning attorney, she reached out to the Asbury Foundation. She decided to participate in the Life Income Program by turning some of her appreciated stock into a charitable gift annuity.
Normally, when an individual sells off stock, high capital gains taxes can be incurred. But by donating the stock to the Asbury Foundation, Dottie partially avoided those taxes and actually received a large income tax deduction. Because her gift was set up as an annuity, Dottie will now receive fixed income payments for the rest of her life. Then any remaining funds will immediately go to AMV residents in need through the Benevolent Care Fund.
"I was happy to be able to support benevolent care. I think it's a very worthy cause," she said. "The best thing about living here is the people I have met."
Thanks to Dottie and others who give of their abundance, residents can rest easy knowing that even if they exhaust their finances someday, they can continue to stay in the community they love.