Dwayne Trautman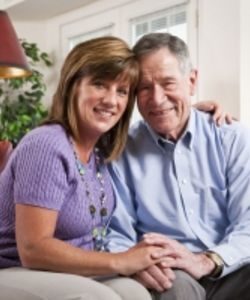 He was an executive with John Deere for 38 years in Moline, Illinois, as well as a flight instructor. An active, social man, he was also recently widowed, showing signs of early Alzheimer's and living 600 miles away from his daughter, Jill Mannino.
Jill, who lives in Erie, Pa., couldn't keep leaving her children and husband to take care of her father, so she began looking at retirement communities in her area. Springhill struck her as the most active and welcoming. Her father, Dwayne Trautman, moved to a Springhill apartment in 2009.
Jill recalls, "Everyone liked him – he has that executive demeanor and made friends easily. He participated in every exercise class Springhill offers and used all of the walking paths. He's still so fit that you'd never know at first that he has trouble speaking and gathering his thoughts."
She adds, "I know being at Springhill has extended his life and overall wellness."
Dwayne moved into the community's Memory Support Neighborhood in March. His family is grateful to the Springhill at Home aides who regularly take him to the zoo, the beach on Lake Erie and a variety of other places.
Jill, who now works in Springhill's marketing office assisting new residents with their moves, heard of the community's Lifestyle Campaign and knew her father would want to donate.
"The projects include everything that is so important to him – an expanded fitness center, a lounge for socializing, a worship center," says Jill. She notes that the only thing Springhill was lacking when they were comparing communities was a chapel, and soon Springhill will also have that.
She and her brother in Wisconsin agreed that contributing to the campaign was important to the family. Springhill helped them to make a gift of their father's appreciated stock to realize the greatest tax benefits.
"Springhill has such warm, wonderful people – it's just like one big family," Jill says. "We want an active community here, and what better way to promote that than by offering more opportunities for health and wellness? It's what my dad is all about."