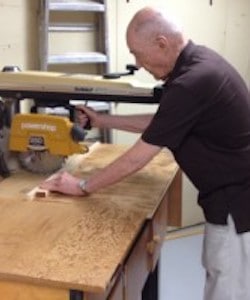 Asbury Methodist Village Donor Story: Ed Crockett
Ed Crockett spent his life serving in the military and continues serving people in different ways now. He moved to Asbury Methodist Village three years ago and immediately started working in the wood shop on campus. He had always loved working with wood, but while serving in the military had never had too much time to dedicate to his hobby.
When he offered to help fix something for a neighbor, word got around and he now sometimes received a couple of calls a day for repairs. He never denies a request and always puts his best effort in every piece. He also helps the Bargain Mart on campus by restoring old pieces of furniture so that someone can then purchase them.
Instead of having people pay him for his services, he tells those he helps to donate money to Asbury Foundation. He explains, "It's the satisfaction of making people happy."
Ed enjoys the work and the challenge of the harder repairs. He notes that his work is guaranteed and that he is always willing to come back.
It is a service like Ed's that makes our communities great places to live and helps the Asbury Foundation support the Asbury mission.