Lifelong Philanthropy
Gordon & Bobby Osborn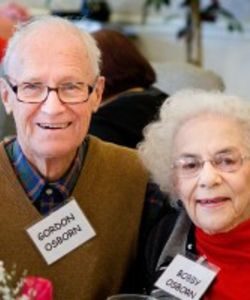 If someone declares that Springhill residents Gordon and Barbara (Bobby) Osborn have a lot to be proud of, that declaration is an understatement. This dynamic duo have led the way for several philanthropic efforts at the Erie, PA community, and their most recent initiative was the $1.7 million campaign they led to raise money to develop a memory support neighborhood at Springhill.
Bobby was inspired to take action for this cause because both her mother and mother-in-law had Alzheimer's and did not receive sufficient care "for lack of anything better." This impacted Bobby for years, and thus her goal was to help create a "Class A place" for people needing specialized care.
Gordon was inspired because Bobby was involved and interested in making a difference, which sparked an interest in him as well. Moreover, he was "glad to try to do some things that would be in service to God."
"Though admirably humble, the Osborn's have helped changed people's lives for the better."
She explains that the 20-bed memory support unit is directly connected to health care access, and is secure so that patients won't wander. The main goal of the new addition was to allow those with memory challenges such as Alzheimer's to live happier and more enjoyable lives.
The Osborn's philanthropy, however, did not begin with their residence at Springhill. Previously, they contributed to organizations that house the homeless and those that provide support to the unemployed. When they got married they combined their efforts, including garnering a significant commitment for Springhill from General Electric that led to the memory support campaign's success.