Springhill's Campaign Leader: Rallying the Home Team
John Gorndt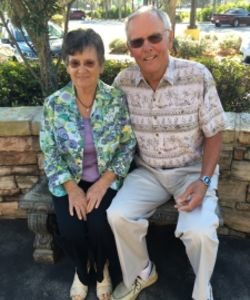 John Gorndt has always been a team player.
In high school, he helped his track and field team win the 1953 Pennsylvania State Championships. The Erie native volunteered for the draft and served in the U.S. Army for two years. He then earned a mechanical engineering degree from Penn State University in 1959 (marrying his sweetheart, Santina Chianello, one week after graduation) and joined the team at Lord Corporation in Erie. Later he earned an MBA from Case Western Reserve.
Over a 38-year career with Lord, a multinational manufacturing company, John help positions in engineering and manufacturing operations. He and Santina raised their family in their hometown of Erie. Always active, he ran 10K races and a few marathons.
After John retired, the couple decided to spend winters in Florida – the perfect spot for an avid golfer like John. However, Erie was still home. When they decided a smaller house with more community amenities would better suit their active lifestyle, Springhill was one of the first places they visited.
"We just fell in love with Springhill!" recalls John. "The people are great, and the facilities are beautiful!" They moved in 2012.
John and Santina both work out, so they very much appreciate Springhill's convenient Fitness Center. They were intrigued when they learned of the Phase II Lifestyle Enhancement Campaign project to add an aquatic therapy pool and outdoor recreation area.
"Exercise is so important as we age, and aquatic therapy allows you to exercise with low stress on the joints," says John. "Santina and I appreciate that the outdoor area will have bocce, a putting green and walking paths that continue to support our needs into the future."
In 2015, John was nominated to serve on the Springhill Board of Governors and asked to serve as campaign chair for the Lifestyle Enhancement Campaign. He was ready for the challenge. "The facilities we have today were added through the efforts of the people who have lived here. Our predecessors did a great job. All of us living here now need to think about paying it forward for the future benefit of each of us."
"This is our home, and this campaign is about improving our home," adds John. The recent passage of the Permanent IRA Charitable Contribution Act made it possible for him and Santina to make a leadership commitment to the campaign.