Remembering a Pioneer and Philanthropist at Asbury Solomons
John W. "Jack" Williams Jr.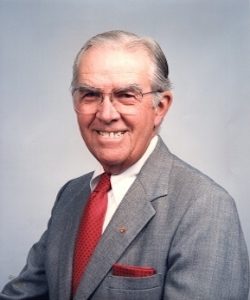 John W. "Jack" Williams Jr. was one of the "Pioneers" at Asbury Solomons, those who moved to Asbury when it first opened its doors in 1996. For 20 years, Jack gave back to the Asbury Solomons community. Whether it was leading the first Board of Directors, serving as chairman of the Asbury Foundation Board, organizing the Investment Club, delivering mail to Healthcare Center residents, or helping with Vespers, Jack was always the first to lend a helping hand.
Before the community even opened, Jack made a gift to start the Asbury Solomons Benevolent Care Endowment Fund. Throughout the years, he continued his generous spirit of giving as he supported projects like the Peterkin Wellness Center and, later, the development of a chapel. It was named the Williams Chapel in honor of him and his first wife, Marjorie. Anytime a need arose on campus, Jack was there to ask, "At what level can I help?"
Jack passed away in December 2016, at age 95. He will always be remembered as a friend, volunteer, and philanthropist. In honor of his contributions over the years, the Asbury Solomons Pastoral Care Department will be remodeling and rededicating the Williams Chapel in the spring so it can better serve residents – something that would very much please Jack.