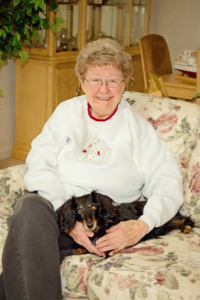 Asbury Solomons Donor Story: Judi Jones
Breathtaking Patuxent River views and maintenance-free living are what brought Judi Jones to Asbury Solomons. Judi and her dachshund, Jessie, settled into a cottage in May 2016. Judi was no stranger to Calvert County. She and her husband, Jim, lived on neighboring Helen Creek for 10 years.
Judi and Jim met in Colorado State University and eventually moved to the D.C. area. Prior to their move to Calvert County, they settled on the banks of Golden Beach in St. Mary's County, where they spent 27 treasured years enjoying waterfront living and beautiful Southern Maryland sunsets together. After the passing of her beloved husband, Judi decided to make the move to a continuing care retirement community. She was familiar with communities in the area; her mother had lived at a faith-based retirement community in Virginia.
Judi chose to stay on the water at Asbury Solomons, and her involvement with the Asbury Foundation began right away. She worked with the Asbury Foundation's Real Estate Partnership Program to facilitate her move and make a generous gift to benefit the Asbury Solomons Healthcare Scholarship Fund. When asked why she chose the scholarship fund, Judi said, "It means a great deal to support the associates here. Helping associates continue their education is extremely important."
Judi's interest in supporting the community has reached far beyond the scholarship fund. The recent endeavor by the community Go Green Committee to bring rain gardens to Asbury Solomons also caught her eye, and she was eager to help. "I consider myself an environmentalist to a certain degree. I felt it was worthwhile to support," she commented.
Benevolent care is also dear to her heart. Her mother moved to another retirement community under a similar program, and Judi has never forgotten the peace of mind that it brought. She recalled how the program brought her mother in and helped her get back on her feet while preserving her dignity. Knowing benevolent care exists at Asbury Solomons brings Judi comfort.
Judi expressed how important it has been to her to be a part of the Asbury Solomons community. She experiences the kindness of friends and neighbors daily and feels "it would be devastating for someone to have to move" due to financial hardship.
Just as her mother received the grace of others, Judi's generosity has supported her community at Asbury Solomons. She continues to be an inspiration for sharing blessings.