Maryalice Huffman Leaves a Legacy of Love and Compassion
Maryalice Huffman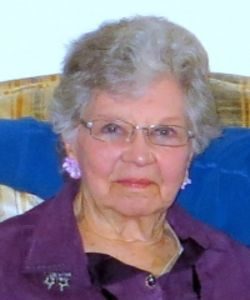 Maryalice Huffman, a resident of Asbury Solomons for nearly eighteen years, died peacefully at age 92 in November 2015. What she left behind is her generous loving spirit, her love for God, and the many lives she touched at Asbury Solomons over the years.
When Maryalice and her husband, Laurin, moved to Asbury Solomons, Maryalice became active in the community right away. She joined the Dining Committee, the Stitchers Group, and wrote the "Meet Your Neighbor" column for the monthly newsletter. Maryalice's daughter, Anita Shepherd, commented that she was, "the original health nut," participating in daily exercises, stretches, and activities. She enjoyed hosting her family at Asbury, too. Her grandchildren and great grandchildren would excitedly join her for a meal at the Topside Pub and Grille, or a swim in the pool.
Maryalice had a strong faith, which she passed along to her family. Although a lifelong Lutheran, she joined Middleham and St. Peter's Parish on Solomons Island, and loved the mission of compassion and outreach the parish emphasizes. She was a devoted wife, and took great care for her husband during the six years of his illness. Anita smiled, "a friend recently reminded me that each day she could be seen wheeling my father around Asbury in his wheelchair."
Maryalice also had a generous spirit of giving. She contributed to the Benevolent Care Fund each year, often in honor of her many friends in the community. She decided that when she passed away, she wanted to leave a legacy of love at Asbury Solomons with a bequest to the Benevolent Care Endowment Fund. Maryalice's thoughtful gift will offer peace of mind to residents needing assistance for years to come.
Anita commented, "I am thankful for Asbury Solomons. My mom's final years were full of companionship, education, intellectual stimulation, friendship, kindness, and love." In memory of their mother and father, Anita and her siblings Laurin Huffman and Pam Hawkins, made a generous gift to support the 20th Anniversary mural and the expansion of the art gallery—a place that their mother loved bringing guests.
Maryalice's legacy lives on at Asbury Solomons. She was loved by many, and left a footprint on the heart of everyone she knew. The Asbury Foundation is incredibly grateful for her thoughtful support over the years, and for the generosity of her children. Asbury Solomons and the Asbury Foundation are looking forward to dedicating the mural and art gallery expansion in her and her beloved husband's memory.