Phyllis Schweizer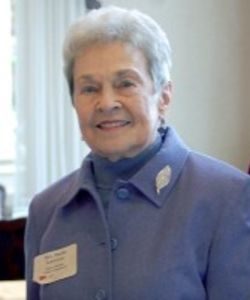 When Phyllis Schweizer moved to Bethany Village in June 1997, she wasted no time and jumped right in to serve on the Care Assurance and Development Committee. This committee helps the Asbury Foundation office at Bethany Village in their fundraising initiatives.  This was quickly followed by her election to the Bethany Village Resident Council in 1998, the Wesley Foundation (later the Asbury Foundation) in 1999 and the Bethany Towers Board in 2000.
Phyllis' philanthropic support is not just in her generous giving.  She has hosted many dessert receptions with the purpose of sharing with others the importance of giving. She has also been a supportive fixture at Foundation events designed to increase awareness of the needs at Bethany Village.
"Phyllis has been incredible," says J.D. Shuman, Asbury Foundation Director of Development for Bethany Village.  "Her support of Care Assurance and Bethany Village as a whole have made an incredible impact on the lives of her neighbors."
"I believe giving is an important part of life," says Phyllis.
"I have been blessed and giving back to our community is very important to me."
Phyllis' first major gift to Bethany Village came in the form of a Charitable Gift Annuity recommended by her Accountant.  Since then, Phyllis has used this income producing gift vehicle to make major contributions to the Bethany Village community.
"Our Care Assurance Fund is very important.  It assures that those Bethany Village residents who have, through no fault of their own, outlived their resources, can stay where they call home," Phyllis shared.  "That is very important to me and near to my heart and is something I will continue to support."