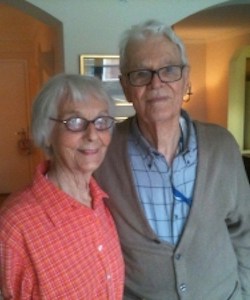 Asbury Methodist Village Donor Story: Rod and Marjorie Mills
Rod and Marjorie Mills moved to Asbury Methodist Village in 2007, eager to get involved in the community. Rod, a published economist, became a cub reporter for the Asbury Village Life newspaper. Marjorie, who was very involved in the Bethesda, Md., craft scene and "quilted everything!" according to their son Chris, organized an annual resident art show on campus.
"They really lived!" notes Chris. "They were healthy and happy for so long because they always had something they were looking forward to."
Rod was raised in Connecticut and graduated from Yale, a classmate of George H.W. Bush. Marjorie grew up in Hollywood and began working with Lockheed Martin's Skunk Works advanced research group. The couple met and married in Rome after World War II, where Rod was working with Chase Manhattan Bank and Marjorie was with the CIA.
In 1958 the Mills moved to Bethesda, where they raised two sons and built a full life together.
After moving to Asbury, the couple, as well as Chris and his wife, Elizabeth, became regular contributors to the Benevolent Care Fund. When Rod and Marjorie both passed away in 2012, the family requested that memorial donations go to the fund.
Chris explains that it was important to his parents to ensure others could have the same experience they did. "We saw how Asbury enabled them to continue fulfilling their intellectual curiosity and widening their circle of friends—and how well they were cared for at the end—and we wanted to support that."