The Delamarters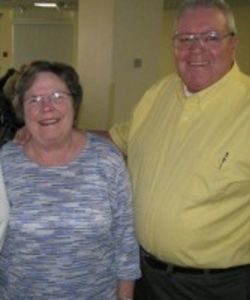 Many people think of direct-mail appeals or Development Directors when they hear the word "fundraising," but not Asbury Solomons residents Bob and Ann Delamarter…they focus on something different.
While incredibly humble when asked about their role in the volunteer and fundraising spirit of Asbury, Bob and Ann are seen by many as leaders in these areas.  Their resumes are filled with service on committees and in clubs.  Ann is perhaps best known for her relentless dedication as leader of the Granny's Treasures Committee, and Bob for his role as leader of the Party People.
Granny's Treasures is an on-site thrift shop that collects donations from residents and associates, and offers these items for re-sale in the shop at a silent auction throughout the year.  All proceeds from the sales and auction benefit the Asbury Solomons Benevolent Care Fund.  In 2008, Granny's Treasures efforts yielded over $18,000 in gifts to the Asbury Solomons Benevolent Care Fund, and in 2009, gifts of over $16,000 were received by Granny's Treasures.
The Party People Committee stays busy planning the many parties that are held on campus each year. "Ann and Bob are truly valuable members of our community," says Melissa Carnes, Director of Development for Asbury Solomons.  "They bring opportunities for residents to get involved with many different activities, and they are great friends of the Asbury Foundation at Asbury Solomons.  Whether they are planning a party or selling items in Granny's Treasures, they are always thinking of the Benevolent Care Fund."  At Party People events, 50/50 raffles are held with proceeds going to the Benevolent Care Fund.
"In this day and age, you cannot guarantee that your retirement is going to last," says Bob.  "Knowing that you can help someone who has run out of money through no fault of their own to avoid being put out of their home through assistance from the Benevolent Care Fund is important to us," says Ann.  "We have always been active in the communities in which we've lived, so it's natural for us to volunteer here."
When we look at all the Delamarters do for Asbury Solomons, combined with the service of the other Asbury Solomons residents, then add in the support generated for the Asbury Solomons Benevolent Care Fund, concepts it is quite clear the Delamarters know how to put the 'fun' into 'fundraising!'