Lasting Love & a Lifetime of Giving
"What has inspired both of us is the statement, 'No Asbury residents have ever been asked to leave because they outlived their assets through no fault of their own.' It was true almost 30 years ago when we first became interested in the benevolent care program, and it is true today. Our hope is that with the continued support of residents, it will be true 30 years from now and on into the future."
–Tom Hefner, who with his wife, Jean, has been a leadership supporter of the Asbury Methodist Village Benevolent Care Endowment Fund
Tom and Jean Hefner are the type of couple you never forget. If they were a comedy team, they would be Abbott and Costello. Tom, an accomplished business leader, is ever the straight man, with Jean as his foil (her alter ego is Trampis the clown). Tom adores Jean, and Jean will tell you that is the way it should be, especially after 64 years of marriage!
It was in 1981 that Tom joined the Asbury Methodist Homes, Inc. Board (now the Asbury Methodist Village Board) at the request of his pastor and close friend the Rev. Dr. Warren Ebinger.
Tom, who was president of Government Employees Life Insurance Company, went through an extensive analysis of the finances and realized some changes were needed if Asbury were to be able to serve seniors well into the future. The Home had an unfunded liability of $13 million. Tom's financial expertise and foresight that forced the board and administration to deal with this challenge are in part why Asbury is still here today.
One initiative was to establish the Benevolent Care Endowment at Asbury Methodist Village, a permanent fund that could be counted on annually to help cover the cost of helping residents who had outlived their resources. In this way, Asbury could continue its mission of service while remaining financially stable.
Tom notes, "Since the endowment fund was created in 1990, we have met the benevolent care needs of current residents, made up the $13 million liability and now have a $13 million endowment for the future."
Tom served on the all-volunteer board for 28 years, chairing it for three. Benevolent care was one of his primary focuses, a cause in which he has always been supported by Jean.
Jean has never been one to sit still. She served on the board of Sibley Memorial Hospital and as the president of the Sibley Auxiliary, Wesley Theological Seminary Guild, Silver Spring Women's Club, United Methodist Women and Church Women United. She has also been a clown since 1978, participating in White House Easter egg rolls; Inaugural, Cherry Blossom and St. Patrick's Day parades; and as an extra in the Tom Selleck movie "Her Alibi." "We taught Tom to juggle!" she recalls.
Jean is currently president of the Asbury Guild, which hosts monthly parties for the residents of Kindley Assisted Living and Wilson Health Care Center and raises funds for benevolent care. Continuing her lifetime of good works, Jean is energized by the work of the Guild.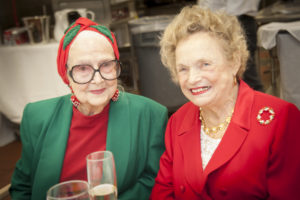 "Our good friend Mary, the Rev. Ebinger's wife, was ending her term as president and Warren talked me into serving," she explains. With a nod to Tom, she adds, "Everybody said yes to Warren Ebinger!"
The Hefners had become close friends of the Ebingers when Warren served as pastor of Woodside United Methodist Church in Silver Spring, Md., where Tom and Jean were longtime parishioners. They became an adopted aunt and uncle to the Ebinger's son, Jonathan. Jean taught him clowning, took him to visit hospitals and nursing homes with her, and engaged him in her pranks and fun. Jonathan later interned at GELICO with Tom.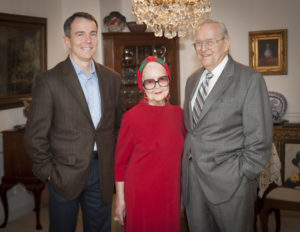 In 2012, Jonathan joined the Asbury Foundation Board of Directors. He says, "Mr. Hefner has been an invaluable guide to me in my career, largely by showing that ethical and caring behavior has just as much of a place in the board room as in the family room. I've learned much from him, and often reflect back on his guidance, gaining as much through his actions as through his words."
Tom and Jean have contributed to the Asbury Methodist Village Benevolent Care Endowment Fund since the beginning, and in 2009, they established another charitable gift annuity to help meet the $5 million goal in the For Love of Neighbor Endowment Campaign.
In 2011, the couple moved to Asbury Methodist Village. They are quick to say how happy they are at Asbury!
Last year, Tom and Jean considered how else they could help. For 35 years, they enjoyed a beach house at Fenwick Island, Del. However, it was getting harder for them to make the trip to the coast. Tom checked with his advisor, Glen Todd, CPA, and the Hefners decided it made good sense to gift the house to the Asbury Foundation. It would eliminate the ongoing expense of maintaining the house, provide a sizable income tax deduction and give the option of a steady stream of income if they used it to establish a charitable gift annuity.
In October 2013, Tom and Jean donated the home, directing that the proceeds from the sale be divided in two ways. First, they established a charitable gift annuity that, at their passing, will benefit the endowment fund. Explains Tom, "This gives us an income and permits us to do something very worthwhile. All I had to do was make a phone call to order the appraisal, and the Foundation handled everything else. We didn't even have to find a real estate agent."
They also directed that $75,000 from the sale be used to help fund the relocation of the chapel at Wilson Health Care Center that will be required as part of future renovations. The new chapel will be named in memory of their dear friend the Rev. Dr. Warren Ebinger.
Love and giving. It so often goes full circle at Asbury.