Supporting Wellness at Bethany Village
Anna Marie Lightner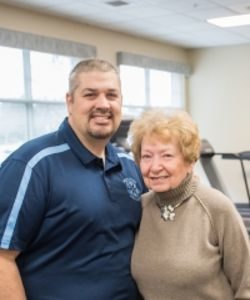 The Bethany Village Wellness Center opened with the Bethany West Campus in 2004. It includes an indoor pool, massage room and fitness center, all used by both residents and associates.
In fact, residents keep the Wellness Center abuzz with activity all day long. When the fitness center could not meet the demands for space and equipment, it became evident that an expansion was necessary.
One of the most faithful users of the fitness center is Ms. Anna Marie Lightner, who exercises there most days. Anna Marie moved to Bethany Village in 2016 and has been a supporter of the Asbury Foundation through generous contributions to the Care Assurance (Benevolent Care) Fund.
When hearing of the expansion plans for the fitness center, Anna Marie wanted to help support her community and neighbors. Her donation to the project ensured the newly enlarged room would be properly outfitted with brand new fitness machines and additional pieces of exercise equipment.
With the expansion complete, Anna Marie and others can how to enjoy an inviting space for all to embrace the Wellness Center's philosophy of "living, learning, playing and aging well."