Dr. Richard Vert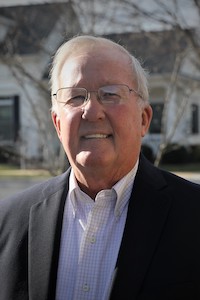 Dick was a financial advisor for 22 years in the Gaithersburg office of what is now Morgan Stanley. Before that, he was a physical education teacher and coach in Montgomery County Public Schools for 29 years.
He and his wife, Peg, met when they were undergraduates at High Point University in North Carolina. Dick has served as treasurer, vice president and president of the High Point University Board of Trustees.
"Asbury Foundation's board is very well run, and the people and mission inspire me," he says.
Asbury Foundation President & CEO J.D. Shuman shares, "Dick's connection with Asbury, his experience with High Point, and his background in investing will be a huge asset to the Board at a time when we are enhancing the impact that grants, and specific purpose & donor-designated endowments will have on the Asbury family."
Dick and Peg have lived at Asbury Methodist Village for eight years, and his parents lived at Asbury as well. "When we moved in, there were 28 other second-generation folks whose parents had lived here," he recalls.
"It's a great community. The people are so nice here, and what they've accomplished in their lifetimes is truly amazing."