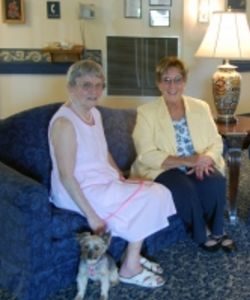 A Warm Reception—and a Lasting Legacy
When you meet Diane Stepler, you know you've just met someone incredibly special. Diane has worked as a part-time receptionist at Bethany Village for eight years and is perfect for the job, with her friendly smile and warm personality.
She has also done something incredibly special. This year she became a Heritage Society member by naming the Bethany Village Care Assurance Fund for benevolent care as the beneficiary of two of her life insurance policies. She does not have any immediate family and considers the residents of Bethany Village to be her family.
"I had a friend who was the designated Power of Attorney for a resident in Bethany Village's Skilled Nursing.  Due to circumstances beyond her control, this resident outlived financial resources and my friend was frantic—as the Power of Attorney, the financial burden was now on her and her family. Bethany Village approached her and explained that the resident would not be evicted; her needs would be taken care of using the funds donated to the Care Assurance Fund. When she told me this, I knew that was what I would do to help others."