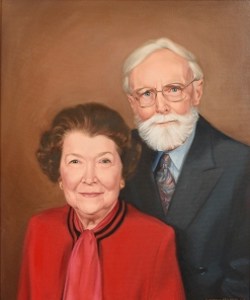 Asbury Methodist Village Donor Story: Gwen and Wally Sellers
Gwen and Wally Sellers came to Asbury Methodist Village (AMV) in 1999. Gwen originally hailed from Oklahoma before working as a teacher in Manhattan. Wally was an electrochemist for International Nickel Company. Married in 1946, the couple spent many happy years going to operas in Manhattan, as well as traveling the world. Both were active volunteers in their church and community.
Gwen and Wally's commitment to their friends and neighbors at AMV led them to fund a library at Rosborough Center. Following Wally's passing in 2006 and Gwen's in 2016, this loving couple's nearly $1.7 million bequest to benevolent care at AMV was the lead gift to the Beyond 90 Years campaign.
Their portrait now hangs beside the Sellers Library to share their legacy of generosity with future generations of the AMV family.