How an RV Improved Life at Asbury Solomons
Pat and Barbara O'Neal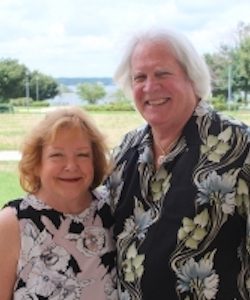 Pat and Barbara O'Neal are second-generation residents. Pat's parents and Barbara's mother all lived at Asbury Solomons. Pat's parents moved into a gorgeous river view apartment when it was first built, and Pat and Barbara became frequent visitors to campus. When his parents passed away, Pat and his wife didn't want to miss the opportunity to call that very same apartment home, so they, too, became Asbury Solomons residents.
Pat and Barbara are very involved as leaders of various entertainment and travel groups, as well Resident Council members. Barbara also volunteers for Granny's Treasures and the bimonthly Silent Auction, which all benefit benevolent care. Although they love travel and owned a Mandalay Motorhome, the beautiful motorhome was often parked in the RV lot at Solomons, not finding much time on the road. They decided it was time to part ways with it and approached Director of Development Heather Mattingly about donating the motorhome to Asbury Foundation.
The O'Neals had always made annual gifts to support benevolent care, but this was an opportunity to do something special. Heather worked with the O'Neals and Melwood (the third party used by Asbury Foundation for vehicle donations) to facilitate the donation. Pat and Barbara were thrilled by the simple process. The motorhome was picked up in just a couple of days and auctioned off within weeks.
When thinking about what kind of impact they would like to have with this gift, Pat and Barbara decided they would love to support improvements to the Health Care Center and Assisted Living as well as benevolent care. Pat shared, "Since my parents, Scott and Nita, and Barbara's mom, Nancy, spent much time in the Health Care Center, we became like family to the staff. We spent many long hours in 'therapy sessions' with our new family and cherished the experience. Although we can never thank them enough, this project gave us an opportunity to repay them, a little, for their support, while making the space more enjoyable for residents."