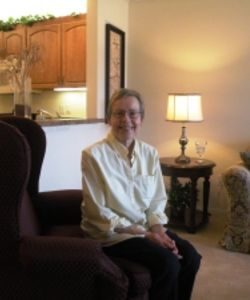 Ria Gonzalez and her husband, Pete, knew as they saw Springhill being built in Erie in 1990, that it was where they wanted to be when they retired. "We had our eyes on Springhill for a long time," Ria says. "Pete and I examined other continuing care communities, but every time Springhill came out the winner."
After moving to Springhill in 2008, it didn't take long before Ria and Pete were giving back to the community through volunteering their time and making gifts in support of benevolent care. Sadly, Pete passed away in 2015.
Since it was important to Ria to find a way to show her deep gratitude for all Springhill had done for her and Pete, she decided to fund a charitable gift annuity to benefit the Benevolent Care Fund in memory of him.
Ria shares, "I give because it's my home, and because of my deep gratitude to Springhill. I wanted to do something concrete in return – to really show how I feel about my home. It's important for this beautiful facility to be here for future generations. It's a great investment in the future, to share the same kind of experience as I'm having."