Home Health and In-Home Senior Care Services in Montgomery County, Md.
Asbury Home Services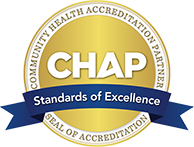 If you are recovering from an injury or illness or require medical support at home, Asbury Home Health Care at Asbury Methodist Village strives for optimal improvement in our client's outcomes. Our services are provided under a physician's order and are reimbursed by Medicare, Medicaid, CareFirst Blue Cross Blue Shield, TriCare Prime, TriCare Standard and UMWA Health and Retirement Funds.
We are proud to hold accreditation from Community Health Accreditation Partner (CHAP). That means we meet standards which go above and beyond those set by federal and state regulators and participate in on-site surveys of our quality of care and client safety policies and practices. Asbury Home Services' senior home health services are fully licensed and our Gaithersburg, Md.-based senior home health care agency is staffed by skillful and caring health care professionals.
Home Health Care must be prescribed by your physician and includes:
Physical, occupational and speech therapy
Medical social worker services
Home Health Aides
Diabetic care
Dressing changes and wound care
Home safety and emergency education
IV therapy and injections
Management and evaluation of patient care plan
Medication and disease management and education
Nutritional support
Observation and assessment of conditions
Pain management
Home Health Care in Montgomery County, MD
Located in Gaithersburg, Asbury Home Services got its start by creating home care services for residents of Asbury's continuing care retirement communities. Now we're bringing in-home senior care into the surrounding community and Montgomery County. Find yourself seeking home care in Montgomery County, MD? You're in luck! Our home care services are unlike those of a traditional home care agency in Montgomery County.
Asbury Home Health Services' offices are located on the Asbury Methodist Village Campus
201 Russell Ave.
Gaithersburg, MD 20877
Phone: Asbury Home Health 301-216-5697
Asbury Home Services is a licensed home health agency by the Maryland Department of Health and Mental Hygiene, Office of Health Care Quality, License #HH7159.