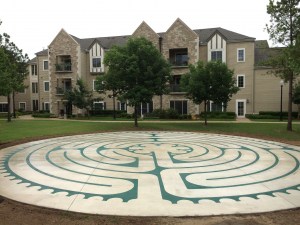 The recent completion of a labyrinth at Inverness Village in Tulsa, Okla., fulfilled a dream for resident Tom Wilson. Tom's wife, Laura, walked the labyrinth at nearby Saint John's Episcopal every day as a way to prayerfully rest her mind, problem solve and relax. It was her way to find balance within mind and spirit. Laura passed away in June 2017, and Tom decided he wanted Inverness Village to have a labyrinth. It would honor Laura while providing residents and staff a similar place to walk and balance body and soul.
Tom's grassroots efforts, working with Inverness Village and Asbury Foundation, procured the funding to complete the labyrinth in time for the one-year anniversary of Laura's passing. The Inverness Village labyrinth is a Chartes Essence design with seven circuits. Most Chartres designs have 11 circuits, but having seven circuits allowed the paths to be wider and accessible to walkers and wheelchairs.
Building the labyrinth created a unique volunteer opportunity for resident and associates. They worked together to apply the Chartres design on the concrete surface. The volunteers used putty knives to fill in the pretaped design with a mixture of green granite and polymer. With great teamwork, the labyrinth design finish was completed in seven days under the guidance of Robert Ferre, one of the world's top labyrinth builders.