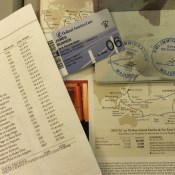 Ever since his days in the U.S. Navy during World War II, Jim Bunner has loved to travel. With some locales, Jim has made it a point to return so that he can see the changes that occur over time.
It was his particular fondness for Shanghai that motivated him to embark on his most recent trip, a 72-day Holland America Cruise around the Pacific.
"I remember that in 1946, the river banks along Shanghai's Bund were lined with rickshaws waiting for boat passengers," he recalls. "Forty years later, people were traveling by trolley. When I visited last year, the colonial buildings that dominated the Bund were hidden by high-rise buildings and people were dressed pretty much like us here in America. It's fascinating to see."
Jim's hunger for the far-off was shared by his wife, Barbara, and after retiring from his job as an engineer with General Electric, they logged 35 trips in 26 years, including a Semester at Sea in 2002.
Several factors made last fall's cruise different. First, Jim was 89 and hadn't traveled in five years. Most importantly, his wife had passed away in the fall of 2011.
After running the idea by his daughter, he sought the opinion of Springhill's Resident Services Director, Sandy Buckley. "I was expecting her to say no, you should not consider such a thing and instead I got encouragement," Jim laughs. Then came a truthful conversation about Jim's energy, endurance and strength.
"Like many older adults, Jim had become more sedentary in recent years and acknowledged that he had trouble getting out of a chair and walking long distances," Sandy explains. She put Fitness Manager Ryan Hetrick on the job. He began setting treadmill goals for Jim and after a few urgings, got Jim to begin attending Springhill's Seated Strength classes.
"When I was in the Navy the Chief would get us in the open field and shout at everyone, walking back and forth, continuously yelling  – push-ups, jumping jacks, etc.," recalls Jim. He was happy to find a much different experience in Springhill's classes.  "Ryan was doing everything he asked the class to do, and even if I wasn't doing every movement of every exercise, I was certainly moving more than I would have otherwise," he says.
When cruise time came, Jim was ready to go. He admits to being a little nervous about heading out solo.
"When you're traveling with someone, you always have someone to talk to, and this way I had to rustle up people," he says.  "But there are more than 900 people on the ship and out of that you're bound to find someone who's compatible."
From Los Angeles, the ship made stops in Hawaii, Guam, Japan, China and a cornucopia of Pacific islands.
Though most of the day tours he opted for on the cruise were chosen from the less strenuous options, Jim credits Springhill's fitness program with making it possible to head out eagerly at every port of call.
On December 4, some 23,000 miles later, Jim returned stateside with 600-plus photos and just as many new adventures under his belt.