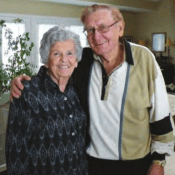 With four daughters, seven grandchildren and seven great-grandchildren, Sam and Ginny consider themselves blessed. Thanks to Sam's long and successful career as a financial advisor for Prudential, they are fortunate to be able to split their time between Springhill, Arizona and a house on the Gulf in Mississippi.
It's a life they're especially thankful for given their early years. Though they were both young during the Great Depression, they both remember the lean times that persisted into World War II.
As a teenager, Sam worked from 7 p.m. to 6 a.m. in a bakery to help his family, before heading off to high school each day. He began dating Ginny at age 16, after seeing her sing in the church choir. Upon graduation, Sam got a job driving a Wonder Bread route and put his head for numbers to good use. He expanded the route and was soon earning $50 a week, a good sum for that period, he recalls. However, once supermarkets began making their own bread, he knew something had to change.
"My brother was selling insurance for Prudential, and he told me I ought to come on with them," Sam says. He did, and soon after that, they were among the company's top 300 salesmen internationally.
From there, Sam's career took off. He found himself assigned to an office in Pittsburgh, which was a big adjustment for a man used to small towns. "I looked down from this big tower and thought, 'What am I doing here?' " he laughs. He began taking financial and legal classes to augment his high school degree, and decided to broaden his focus from selling insurance to selling a variety of investments.
While Sam was working 12- to 14-hour days, Ginny was working hard raising their girls. "I'm a workaholic," Sam admits. "I love to work. It's a wonder Ginny didn't leave me a long time ago!"
After the girls were out of school, Ginny began working toward a beautician's certification and completed that a short while later.
She and Sam are thrilled to be able to give some of their bounty back to their church, civic organizations, and most importantly, to their grandchildren. The couple put all seven grandkids through college and are now working on doing the same for the next generation.
Their move to Springhill has been in the works for a few years, says Ginny. Her daughter, who is a teacher in Erie, began talking to them several years ago about the community's Garden Homes. But it wasn't until Ginny had a fall and suffered a serious brain injury that the couple got serious. Having extra support nearby if they needed it began to look more important. Further, their home was on a six-acre lot – downsizing began to look a lot better.
"We'll spend six months each year in Erie, and enjoy our winters in Arizona and Mississippi," Sam says. "We love the theaters here and we're having a lot of fun with our two-year-old great-grandson."
Having joined Springhill in December of last year, Sam and Ginny are still getting to know their new neighbors. This past spring, they took advantage of Springhill's Fitness Center and walking paths. They're especially glad to have the move behind them. "Going from 4,000 square feet to 1,700 is challenging," he says. "We gave so much to Goodwill. My daughter said everyone should be required to move every three years, so you don't accumulate so much junk!"