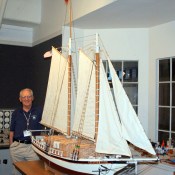 For proof that you're only as old as you feel, look no further than Peter "Pete" Gonzalez. A retired Army recruiting supervisor and infantry soldier, Pete's main passion in life is model shipbuilding, and it would be fair to say that for him, it's much more than a hobby.
His unbelievable models haven't gone unnoticed, either. In 2005, he was the guest of honor at a dinner party thrown by Jean Baldwin Ritchie, the great-great-great-great granddaughter of Commodore Oliver Hazard Perry. Perry was the captain of the U.S. Brig Niagara, and Peter's 1/8 to-scale model of the famous ship made him the talk of the evening. To see an example of his work, look no further than the Springhill home he shares with his wife Ria, where he displays the second largest scale model he ever built.
A lifelong history lover, he also volunteers at the Erie Maritime Museum, where he helped restore the majority of ships in their collection. His contributions to the museum were recognized when he won the "Forster Society Award" in 2009, and was named "Volunteer of the Year" in 2003.