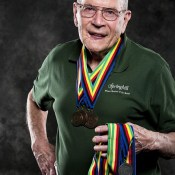 Ask Joe Bertoncini why he thinks Springhill's HealthAbility program has been so beneficial for him, and he'll give you 64 reasons – one for every Senior Olympic medal he's won. A retired baker with three Purple Hearts from World War II, Joe credits Springhill with giving him the resources he needs to stay physically fit and active at the age of 88.
"Moving to Springhill helped me to start a new phase in my life that I never knew would be so much fun," he explains. "I was surprised by the number of fitness-related activities and classes. Not only do I like to spend time in the gym each day, but I also enjoy getting involved in stretching classes, strengthening, yoga and others that they offer here."
Joe says that it wasn't until after he arrived at Springhill that he realized how great senior living could be.