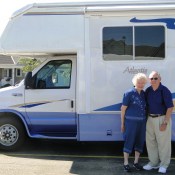 In 1968 when the Seepes first caught the RV bug, gas was around 35 cents a gallon and their new trailer, a pop-up, cost $1,200.  With their four children under age six, John and Roberta, or Bert as she's called, took off on a three-week journey to Acadia National Park in Maine. Camping on the sound the kids played with starfish and huddled excitedly through a storm. "They loved it," Bert recalls.
Which is why, 30 years and many gas price hikes later, the Seepes are still just as likely to be found heading out in their motor home as they are hanging out in their Springhill Garden Home. Needless to say, the Seepes's new digs are much more luxurious than that old pop-up, but they figure they've earned it. John says, "When we tell the kids we're going camping now, they say, "No you're  not. You've got a microwave and air conditioning!"
In 1994, the couple took their longest trip, a five-month tour that included California, Oregon, Washington, The Canadian Rockies and finally, Alaska.  In all, they've traveled to every state  but Hawaii and Louisiana, the latter an omission Bert still regrets.  "We were only 48 miles from that state, and my husband wanted to go home," she says.  "He said it was too hot there."
Other highlights include trips to Newfoundland, Iceland, Prince Edward Island and Yellowstone National Park "before it became so restricted in terms of where you can travel and fish," John notes . No one in the family will ever forget camping on an island in Canada and narrowly surviving a tornado. "We rolled stumps over the base of the tent to brace it against the wind" recalls  Bert, "and when they say a tornado sounds like a freight train going by, well, we heard it .We had a mini dachshund at the time and he never got over that trip."
Their girls will never forget the time they decided to play a practical joke on their parents and sank their canoe in a lake that was full of leeches.  As they were pulling leeches off themselves,  Bert says, "They sure weren't laughing then."
Experiences like those must have been well outnumbered by good times, though. "Our youngest son bought his first RV last year  and just got back from taking his four children out to California for their first long trip," Bert says. "All of our children thought that camping was the way to travel. If you had to stay in a motel you weren't having as much fun."
Although gas prices have seriously curtailed the distance they're willing to travel these days, the Seepes are active members in RV National Rallies, often travelling to events in Pennsylvania, New York and Ohio. "A lot of people up here head south or west in the winter, but I love the cold,"  Bert laughs,  saying that sometimes she wakes at 5 a.m. so she can shovel snow before Springhill's plows come through. Plus, "we don't  travel during hunting season," John says.
As for their future plans, they haven't even given a thought to parting with their home away from home. "We'll give it up when we get old," John says. "Since we're both around 80, we figure that gives us about 20 more years."