Working on Wellness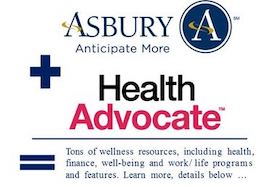 HealthAdvocate is Asbury's partner to help support Asbury's Wellness and Employee Assistance Programs. This online portal is available to help you and members of your family resolve healthcare and insurance issues, reach your health goals and provide tips to better balance your work and life. HealthAdvocate is accessible from a computer, tablet or smartphone. Participation in the program for benefits-eligible associates is based on a point system, where 175 points are required in order to take advantage of the health incentive:
Get started in Health Advocate by creating your account or logging in:
Go to the secure website, HealthAdvocate.com/asburycommunitiesinc
Enter the organization name: Asbury Communities
Register as a new user, and sign in with your username and password
How to earn 175 points
Earn a total of 175 incentive points by completing a Biometric Screening (50 points), Personal Health Profile (50 points), and earning 75 additional points in the Wellness program.
Step 1: Biometric Screening (50 points)
Complete a Biometric Screening (50 points) by using a Physician Form. This form can be taken to your doctor during a routine visit. Your doctor will complete the bottom portion of the form and send it to Health Advocate. The form can be found by clicking here, or by viewing on ShareLink in the documents section.
Step 2: Personal Health Profile (PHP) (50 points)
Associates (and your spouse if you elected employee + spouse or family coverage) must complete the PHP, which is a series of questions designed to help identify your potential health risks. To complete your PHP, log onto HealthAdvocate.com/asburycommunitiesinc.
Step 3: Earn an additional 75 points
In addition to your Biometric Screening and PHP, you will also need to earn an additional 75 points by completing items of your choosing: Healthy Challenges, Workshops, Healthy Trackers, Wellness Coaching, and more. You can also earn points for completing Preventive Care exams if you are covered by an Asbury medical plan.
Tip: To find ways to earn these extra points, once you log into HealthAdvocate, navigate to the Health section, then access Stay Healthy, where you will see a page with everything from Challenges to Workshops, and is where you can sign up for these items to earn the points you need.
An easy way to earn points: Oh, and good news! We've added a new way to earn 25 points. For eligible associates with an Asbury 401k account with Principal, you can earn 25 points if you already have a beneficiary designated — or if you add or update your beneficiaries by the deadline.